KQED Fest: An Authentic Display of the Arts in SF's Beloved Mission District

By
Vivian Vivas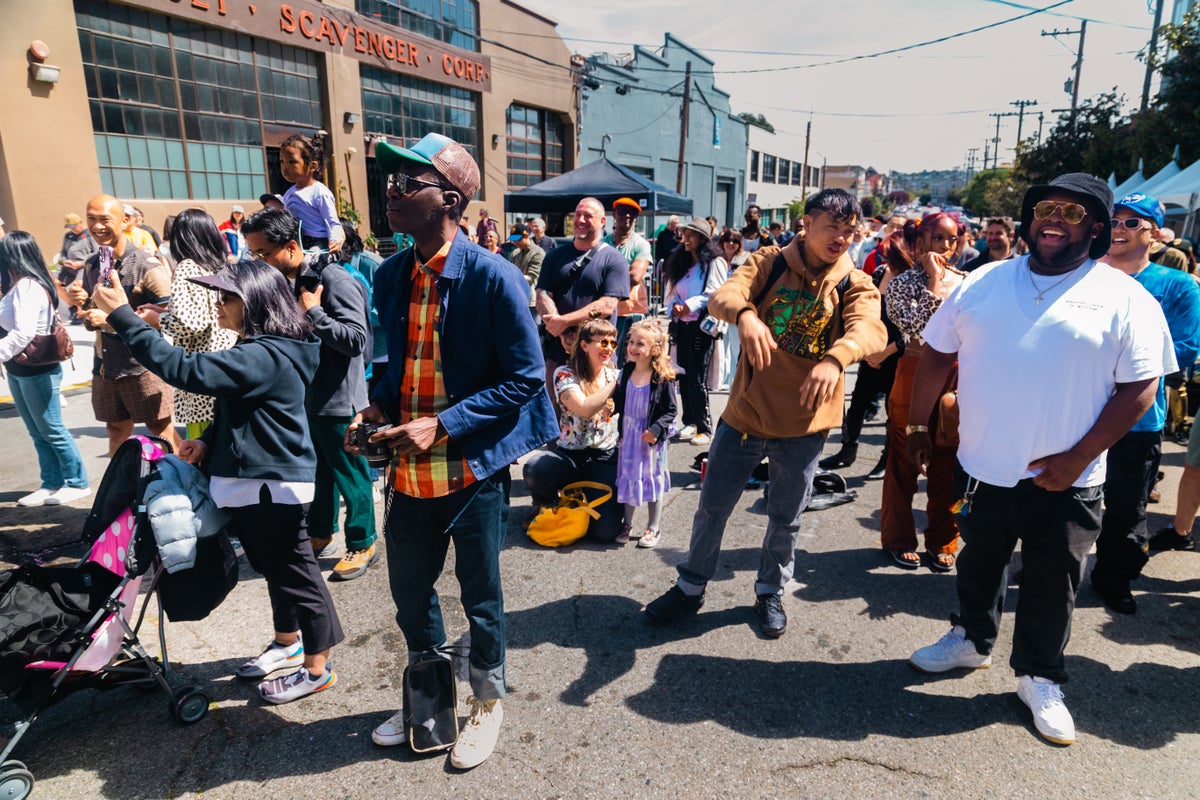 KQED Fest— Mayan-infused food trucks, local artisans inspired by Huichol arté, and live local music—lined Mariposa and York Streets Saturday, April 29, as KQED Fest kicked off its block party and open house for all its community to attend. The event took place in KQED's Headquarters, which is perfectly situated in the heart of San Francisco's Mission District, where its surrounding mix of cultures helps influence the vibrant art that emerges.
Inside KQED Headquarters, journalism, art, and the media took center stage as the newly renovated state-of-the-art facility offered a little bit of everything for all ages. The community received the opportunity to step behind the scenes for tours of their newsroom studios, the chance of trying a hand at media-making workshops and a book signing with editor and host of KQED's Bay Curious podcast with Olivia Allen-Price. KQED also hosted important conversations with American film director and activist Boots Riley, NPR's All Things Considered host Ailsa Chang, and drag queen activist Sister Roma. Excitement over the presented programs was certainly visible as groups huddled in conversation covering every inch of KQED's Headquarters.
---
KQED's outdoor block party on York Street, held an entirely different ambiance as artisanal vendors with authentic Mexican roots showcased sweaters, necklaces, bracelets, bags, and artwork. Every piece's bright colored patterns served as a light for photographers like Elijah "BlckSpkz" Collins, who became completely immersed capturing the art, diversity and life being showcased.
Connie Rivera, proud owner of Mixcoatl, sold handmade necklaces, bracelets, earrings and beaded-hummingbird figures that embodied the spirit of Mexico's artisanal culture at her pop-up stand. Rivera, who is originally from Mexico, migrated to the United States over 30 years ago and has lived in the Mission ever since. She embraces Aztec and Latino heritage through the art she makes and finds that being able to create allows her to continue feeling connected to her culture. Rivera reflects and explains how the authentic community of artists and creators she's surrounded by, empowers her to "continue giving her pieces a home."
"Llevo aquí mucho tiempo y doy gracias que llegue a la Misión, porque no hay cualquier otro lugar en el que quisiera vivir. He convertido este lugar en mi hogar, no solo para mí, sino también para mis hijos. Y gracias a dios que halle la forma de seguir adelante haciendo creaciones que me inspiran y me ayudan a sentirme parte de mi cultura."
("I've been here a long time and I'm thankful that I came to the Mission, because there isn't anywhere else I'd want to live. I've made this place my home, not only for myself but also for my children. And I thank God I was able to find a way to make a living by making creations that inspire me and help me feel part of my culture.")

---
SF Zine Fest hosted booths alongside the Missions Cultural Center for Latino Arts and Precita Eyes to showcase the organization's combined visual passion for Latin American culture that is reflected in and around the Mission's murals. A variety of food options also complemented the arts to provide cultural fuel for all its attendees. Yucatec Mayan Fusion from La Cochinita payed homage to Merida, Yucatan by serving traditional plates with a Cali twist. Vegan Mob offered a menu comprised of traditional family soul food and barbecue fusion focused on delivering savory meals with nutritious plant-based ingredients. Meanwhile, Bay Area bakery Marley's Treats served a variety of sweets that satisfied the post meal sweet tooth.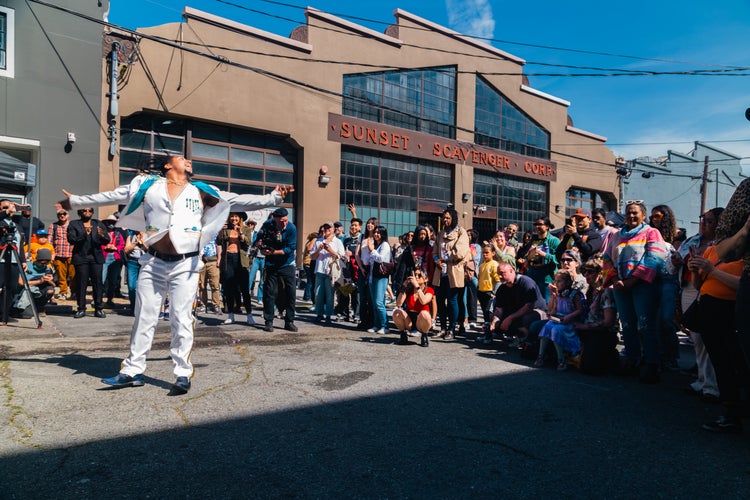 Later in the afternoon Noise Pops Homegrown Stage, featured standout performances by artists Tia Nomore and La Doña, who highlighted the ever growing music scene that has blossomed out of the Mission District.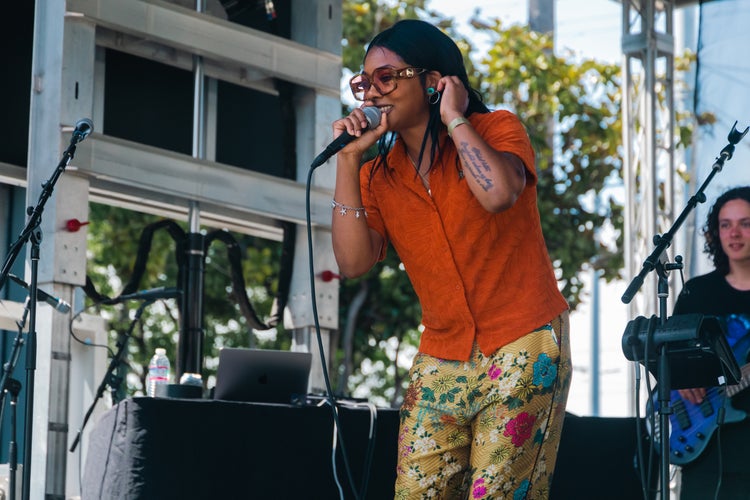 Tia Nomore and La Doña's performances did much more than provide live music. Their songwriting and lyricism rooted in calls for activism that captured their surrounding community's struggles. Tia Nomore's set reflected her passion for hip-hop and rap. Meanwhile La Doña's set drew inspiration from what she streamed as a child to create a mix of rancheras, infused with a mix of reggaeton and cumbia. All the performers embodied KQED's mission: that artistic creativity revolves around diversity!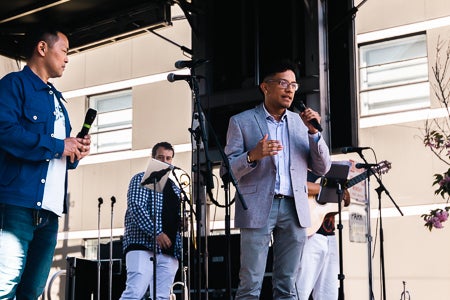 Carlos Cabrera-Lomeli who is a community reporter with KQED's digital engagement team and co-producer for KQED's bilingual news hub, had the opportunity of presenting La Doña on stage.
Her lyrics speak directly to the experiences of many across San Francisco and the Bay Area who have lost their homes due to evictions or the high cost of living.
"Having La Doña perform at KQED Fest means a lot as someone who grew up in the Mission listening to KQED, so it's always a pleasure to share the stage with her. Her lyrics speak directly to the experiences of many across San Francisco and the Bay Area who have lost their homes due to evictions or the high cost of living. Her melodies are a fusion of the many Latin American diasporas present in the Bay Area. It truly means a lot to see the place where I work provide a platform for the artists that represent and voice the experiences and needs of so many in the bay." says Lomeli.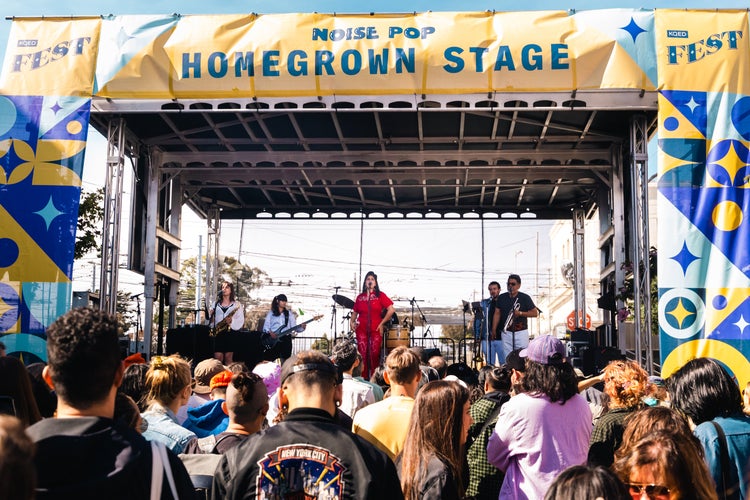 Carnaval San Francisco, also joined the festivities as they kicked off their 2023 King and Queen competition offstage amidst the crowd. Everyone huddled, enraptured by the dancers' fiery costumes that featured multicultural themes reflecting Latino, Caribbean, and African diasporic traditions. Their lively performance regaled the cheering crowd by highlighting the community's love for art and deep appreciation for the history that, to this day, continues representing their culture.
The authenticity of every performance shined on its own and reflected how expression of the arts, in any form, whether its dance or rap, has the power to unite a community. KQED's event highlighted its deep appreciation for the local arts by centering on the importance of how a community's culture breathes life into the art that surrounds it.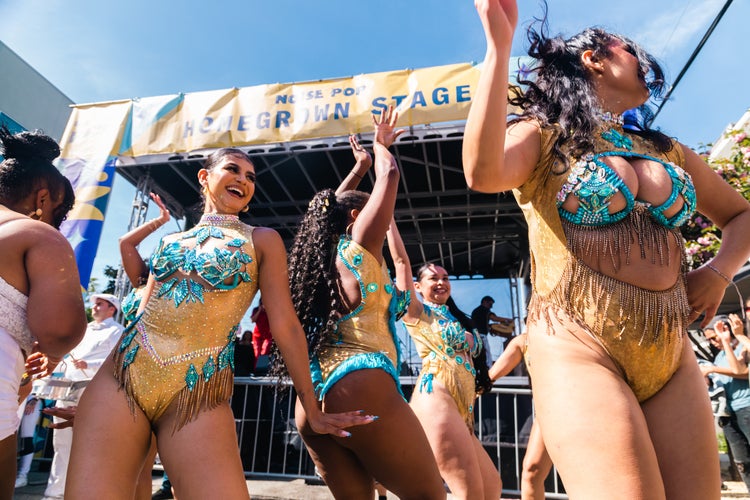 For more information on upcoming events, please visit BFF.fm, as its always buzzing with new events!

Photographs by Elijah "BlckSpkz" Collins