Top 5 (plus a bonus track) from Songs from the Quarantine, by suldrew

By
@suldrew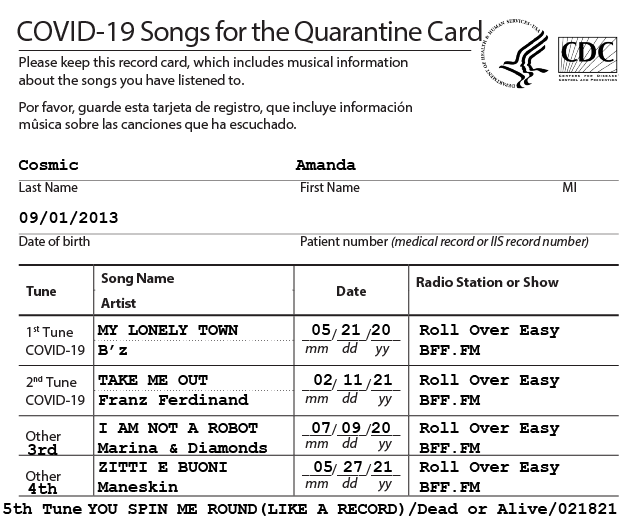 Happy 2022, BFF.FM friends and fans, and welcome to the top five Songs for the Quarantine (plus a bonus track). If you've listened to Roll Over Easy lately, you will surely have heard these segments that I've created, sharing songs that were "perfect for taking your mind off social distancing" at 8:30 am most Thursdays from March 2020 until June 2021. (Thanks Sequoia and Early Bird!)
As we all know, even if lockdown is over, the pandemic very much is not, with the Omicron variant just the latest instance of Covid to put us back in our N95s and Shared Spaces. So I thought I'd look back with my own top five from the series - not necessarily the greatest hits at the moment they aired, but the five that seem relevant just now. Not one is on BFF's Top 100 chart for 2021 - a sign, perhaps, that what's mainstream to me is obscure to you, and vice versa.
As we move into 2022, I'm thinking about new ideas for BFF shows and segments, and I can't wait to catch up with all of you at a Besties Bash or Slow Sipping happy hour sometime soon. So enjoy this five-over-one, check out all the transcripts and the segments themselves on the Roll Over Easy archive, and I'll see you over a fresh Gus's Market pourover on the interwebs before you know it!
1. My Lonely Town, B'z (2020-05-21)
Feeling lonely in your town? These Tokyo hard rockers did too, in a city fifteen times the size in San Francisco. But they know the pleasure of meeting your people on the street: 「ひとりずつみんな 歩いてるこの街で いつの日か あなたと会えるなら それは素晴らしい事件」: "In this town where everyone's walking their own path, If I were to meet you one day, That would be wonderful." It makes any town a little less lonely, especially ours.
2. Take Me Out, Franz Ferdinand (2021-02-11)
We just had New Year's Eve in SF, so you might want to wait a minute for your next big date. But once you've recovered from whatever you did out on the town masked up or at home in front of the fireplace, Franz Ferdinand's classic will get you in the mood for a big night, out in the park or at one of our 100% vaxxed nightclubs. (Get that booster!)
3. I Am Not A Robot, Marina and the Diamonds (2020-07-09)
Do you feel a little less human some days, especially in the age of Omicron and the new mini-lockdowns that keep showing up like unwelcome spam in your inbox? Especially when we spend so much of our time on computers, it's good to have a reminder that we're not just copies of data downloaded from the cloud. Way back in 2010, Marina wrote this anthem that seems even more relevant today, as we jealously guard our place in the real universe.
4. Zitti e buoni, Måneskin (2021-05-27)
This hard-rock anthem, Italy's winning entry in the 2021 Eurovision Song Contest, will perk up any Muni ride even if you don't speak a word of Italian. "E buonasera signore e signori … Vi conviene stare zitti e buoni": "good evening, ladies and gentlemen … You better shut up and be quiet." If you feel that way about some of the signore e signori you run across on the way to North Beach, just put Måneskin on the AirPods and crank it up.
5. You Spin Me Round (Like A Record), Dead Or Alive (2021-02-18)
Do you remember the moment when all of San Francisco was concerned about the future of a Ferris wheel? It seems so quaint now, and a bit silly, that we broke into pro- and anti- Skystar factions, drawing battle lines in the Global War on Fun. Was that really in 2021? Believe it or not, it was, and this was the song that I shared that week. You spin me right round, like a record, baby. Pick up an LP over at Amoeba and spin right round once more in the new year.
Which brings us to…
Bonus: New Year's Day, U2 (2021-03-17)
"All is quiet on New Year's Day." Unless you were at Breakfast of Champions, perhaps, I'll guess that January 1 was as nice and quiet for you as it was for me. Especially in the Omicron spike, San Francisco in the holidays has a tranquility about it that keeps locals old and new coming back, or rather sticking around, while others brave the airport queues.
New Year's Day was the quarantune for St. Patrick's Day, 2021, one year after lockdown, when March 2020 seemed never to have ended but we were starting to see signs of life, with outdoor drinks and dining everywhere and vaccines becoming available. Now, three shots later, in the winter after the first reopening, we still have to be careful in the face of new variants. But San Francisco has shown that we can do what's needed and keep ourselves and each other safe.
"I will be with you again." Wear those N95s, seriously get boosted (walk-ins available daily), and we'll get through this too. Happy New Year and we'll see you out on the (slow) streets!