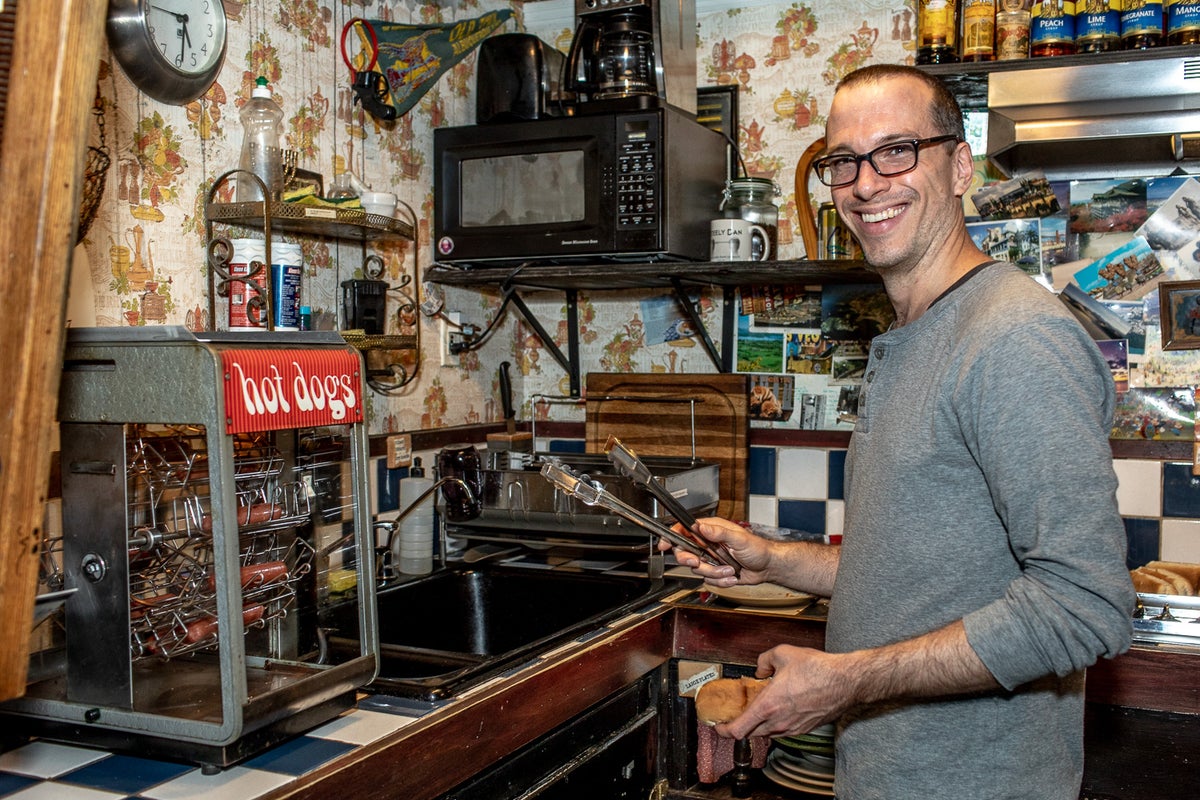 Hot dog! Sasha toastin' some franks during a Bestie Bash at The Secret Alley, November 18, 2018
Photo by Jaime Borschuk | http://jaimeborschuk.photo/
Recommended Episodes...
In need of a better morning ritual that expands upon the shrill sound of an alarm clock? One that doesn't abrasively pierce you out of sparkly slumber and into a somber awareness of dried pillowcase slobber and the brutal fact that you need to get to work? Well, listen no further. Each Tuesday morning, BFF.fm's waves wash ashore the treasured message in a radio booth that is Boy With Girls' Name Morning Mixtape. The show's host, Sasha, puts special TLC into every mixtape, with an impeccable flow in his thematic and collaborative-spirited compilations. Between sets, he stitches fascinating threads of information about BwGN's mixtapes, anywhere from historical, biographical to fun factual bits on particular songs, musicians, and other components of the stories behind music.
The show began as a solo project, but has evolved into an often collaborative format, featuring a guest who inspires or facilitates in the making of an episode's mixtape. Some guests play co-host on-air to unveil and talk about each song and the episode's theme with Sasha. Episodes range from the familiar to the furthest reaches of culture and history, from the specific to the obscure with episodes like "The one when we revolt against summer" (a homage episode to BFF's Revolution Summer, hosted by the beloved Douglock), "The one made in the 90s," "The one that's all music from Africa," "The one that's a grab bag," and "The one with a British Invasion, w/ Carly S."
Genres include (but are not limited to) Shoegaze, Blues, Folk, Electro, Jazz, Ska, Experimental Soundscapes and with intermittent special inclusion of Bay Area musicians. Also, BwGN takes us on the deepest of dives into certain artists or genres with the host's quest to share music that typically gets shoved to popular culture's back burner, including Classical, Ragtime, Spirituals, World Beat and other under-exposed tunes.
Where did this stellar radio personality come from? Sasha grew up in the Boston area, in the town of Norwell, Massachusetts. He grew up with a kid sister and parents whose musical tastes were his earliest influence. His dad listened to classic rock from the 60s and 70s while his mother had the oldies' station on 24/7 (*btw Sasha dedicated a BwGN AM Mixtape to his mother's birthday, calling her during the live show of the endearing "The one for Mrs. H."
His eclectic-orientation took shape around 5th or 6th grade, where he discovered and immersed himself in a friend's brother's cassette tapes of Guns N' Roses, Metallica, and Living Colour. From there began a curiosity for new music that bridged to his junior high hobby of reading music reviews in The Boston Globe. He started following local bands, and by high school he began listening to college radio. Throughout his junior high and high school days, Boston's rock station WFNX had a celebrated radio show on Sundays that featured local underground rock bands that became a special part of his musical catalogue. He also spent much time in the school's art room or auditorium to build sets for school plays, with the radio playing various musical styles in the background, which would subconsciously develop his acquired taste for any and all genres.
After high school, Sasha went on to Clark University in Worcester, Massachusetts, where he started as an English major, but quickly switched to Sociology. His scholarly change of heart manifested in his gravitation toward political campaigns, social communications, and urban development. Academia didn't interrupt his artistic endeavors—he was briefly in a band along the lines of Post-Punk, fused with a local art collective. Outside of college extracurriculars, he would go to Punk, Emo and Metal shows constantly at The Palladium, the city's all-ages concert hall.
Sasha participated in different outreach projects with community development corporations, research through school, and undertook internships including one in London, where he worked with residents of public housing estates in the borough of Camden to refurbish their shared outdoor spaces. He stayed put at Clark University, going straight from undergrad to earning a master's degree in Community Development and Planning. While in school, he wound up writing and editing for a Worcester-based lifestyle magazine, The Pulse. He recalls that it was a fun job to do for a couple of years, acquainting him with the city he went to college in a way he never expected. This then led to writing for a now-defunct national fashion magazine after college with assignments including CD reviews and interviewing many musicians, notably Silverchair's Daniel Johns and The Unicorns' Nick Diamonds.
He jumped ship to the Bay Area over 11 years ago. He now works for the SF-based nonprofit Kronos Quartet/Kronos Performing Arts Association, where he coordinates the marketing communications for the string quartet and its supporting organization. When he's not at his day gig or hosting BwGN, he's mingling in his comic book swap club and volunteering at Dave Eggers' 826 Valencia. He found out about BFF.fm when rabbit holing the interwebs, finding shows like the Witch Radio Hour and Revolution Summer. He also contributes to BFF.fm with his always fantastical blog series "Sasha's Overenthusiastic Review," we especially recommend his take on the LUMP EP and Tierra Whack.
Sasha is both kind and astute in his execution of BwGN's epic mixtapes. DJ Mr. Darcy was honored and delighted in seeing the show's inner workings as a guest in a generous invitation to collaborate on "The one for the writing writer, w/ Darcy A." We're thrilled to share what we learned about his story on and off the air as you'll find in the following Q&A…
---
When did you become a DJ (on/off air)?
Sasha: I've been a radio DJ at BFF.fm since August 2017. I was involved in college radio, mostly playing Emo, Pop-Punk, and a little bit of Hardcore. During my sophomore year, a friend, Michelle and I did a show called "The S and M Variety Hour" at Clark University's internet radio station called RocU.
After college, how did you circle back around to radio DJ'ing?
Sasha: Boy with Girl's Name Morning Mixtape's conception is really an adaptation of an actual mixtape series that I started years back following college. I did it as a way to keep in touch with a lot of friends who moved away. It became a way to stay connected with everyone, then when I was the one who moved away. After 5-6 years of creating mixtapes, I just stopped.
I got a taste for radio again when I took a trip to Kauai island in Hawaii and met a friend of a friend who lived there. The first time we met, he drove me to a broadcasting antennae and a little hut in the jungle where we did radio for hours while working our way through a case of beer.
It was an itch that I ignored for a few years, but then after the 2016 election, I realized I needed a hobby, something to distract me from all of the stressful political news. So, I started making mixtapes again, this time digitally. Once it was back up in full swing, it became a lead-in to my radio trajectory, starting the show less than a year later.
Outside of DJ life, what do you enjoy doing?
Sasha: I've been attending concerts more in the past couple of years. Recently, I've seen Michael Nau & the Mighty Thread with Erin Rae, Idles with Bambara— which is one of the better shows I've seen in a really long time, so much energy, really refreshing— Tom Brosseau and Meredith Axelrod, and Mountain Man. My partner, Katie, likes to hike a lot and is a huge backpacker. I join her sometimes for urban hikes and hikes outside of the city.
I also volunteer at 826 Valencia. For five semesters, I've helped 6th-12th grade students write for in-school programs. We help them with projects like a school newspaper and how to structure articles, interviews, etc. It's always interesting to puzzle out how you can help each student.
Have any particularly odd idiosyncrasies?
Sasha: I manage social media for work and radio, so I don't have much personal social media.
Who are your favorite current artists? Fav artists of all time?
Sasha: Do Make Say Think, Broken Social Scene, Ida, Low, Laura Veirs, Jolie Holland, are old favorites. Laura Marling and her new collaboration LUMP, Caroline Rose, Erin Rae, Haley Henderickx and Cosmo Sheldrake are new favorites.
What are your pet peeves?
Sasha: Thanks to digital music, it's so easy to find new music, but hard to find information about it. The lack of metadata drives me crazy! Nowadays, online sources sometimes credit people, sometimes they don't. There's currently no good central database, information is often missing or wrong.
What do you find most purposeful/of value about BFF.fm, personally and for the community?
Sasha: The station opens up a creative avenue for a wide range of people. SF's ongoing changes has split the city up, and pushed people apart. Amanda Guest (founder/station manager) is good about bringing people together, recruiting different DJs. BFF.fm looks like the city as a whole, with various perspectives on-air at any time of the day. All these DJs that get two hours of time put a lot of energy into their talk show or music playlists. It reminds me of why I've been in the Bay Area for so long- for its creativity. Coming from Boston, which felt more closed off, SF was more open and had a different appeal. To me, this station embodies that very sentiment within a smaller community. Before I joined BFF.fm, I planned to pitch to a few local radio stations for my show. My first pick was BFF.fm because, as a long-time listener, I thought they're the type of people I wanted to meet, collaborate with- such a great, supportive community.
In San Francisco sometimes you look around and see everything's changing in regard to how Art and culture is not thriving as much as it used to. But BFF.fm pushes back against this. Amanda is so open to so many great ideas, inviting people into these amazing studios, where we have active art spaces. It's magical to see.
---
Whether we're seeking joy, catharsis, recompense, optimism, anger, weirdness or simply just want to discover more music, there is always an episode representing just that in the archives or in upcoming episodes on Boy With Girl's Name Morning Mixtape. Sasha rakes through the recesses of his music library, and dishes his findings with carefully cultivated moods in each mixtape's vibe-building tracks. But most importantly, he incorporates the very depth of the collaborative and harmonious value in how music is created, celebrated, and shared with one another.
Catching him live in the morning is key- his tranquil tone and casual talk helps ease us into morning's consciousness more smoothly and less cantankerously. Tune into Sasha's mellow and investigative mixtapes that are sure to amplify the good parts of waking up every Tuesday morning from 8-10am PT.
Itching to know where else you can find Sasha?
Sign up for BwGN's email list in case you miss the live show