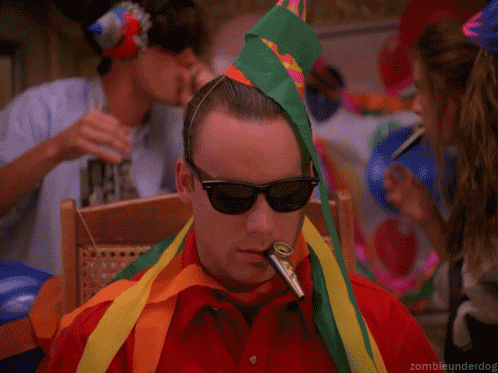 Happy birthday, BFF.fm!
Year three brought us the continuation of our weekly DJ night at Pops, the opportunity to expand with Studio B, MORE awards that show us you love us...and, of course, the amazing camaraderie among our DJs, listeners, and partners.
So, here we go year 4! Hoping to build what we have even stronger with a little help from you, our community of loyal listeners. So stay tuned!
Thanks, as always, for being an important part of BFF.fm. - Amanda & Forrest Guest, BFF.fm founders aka "Mom" & "Dad"
Now, as is customary on our birthday, thoughts, reflections, and memories from our DJs:
"The last five years in San Francisco have been rough on us decade-plus veterans: institutions of art, food, music and culture have either changed to cater to new demographics or disappeared completely in some cases. But people, bands, venues, galleries and institutions like BFF.fm have stood firm to keep that spark of creativity and constructive abandon alive and well in the city. I'm nothing but proud to be associated with this diverse family of radio kooks that's come together around a love of music and a love for the SF Bay Area and its music scene." - Ben Russo, Music Director
"BFF.fm is more than a radio station – it's a thriving community of rad people who love music, and connecting with one another through music. It's been a privilege to call BFF my radio home these past few years, and I'm humbled by the warmth and talent of my fellow DJs. Happy birthday BFF I love you!" - DJ Ashtron of Genre!
"BFF.fm is the ultimate sanctuary for music lovers! The incredibly diverse programming represents a glimmer of light for expression in a city that sometimes feels lacking in legitimate creative outlets. Music Ninja Radio has become a weekly music-therapy session for us and witnessing the similar passion our fellow DJs bring to their shows is a steady source of inspiration. It's that common thread--a genuine love for and open-mindedness about music--that makes BFF such a special community for listeners and DJs alike." - Ash of Music Ninja Radio
"BFF.fm has introduced me to a community of people that have inspired me to keep creating, and I really couldn't be more grateful! Having an analytical current event talk show, we now have a platform to voice our concerns about social and political injustice, and what we can do to change the system. Everyone at The Secret Alley, both staff and hosts, have been so inviting to me and are truly great people!! HAPPY BIRTHDAY BFF.fm! LONG LIVE COMMUNITY RADIO!" - Megan Maurer of It Matters
"BFF.fm is one of contemporary San Francisco's most magical entities, capturing a sense of the weird and the aspirational. I love taking new guests into the studio to see their reaction, which is always a variation of "wow, I never knew things like this still existed in San Francisco!" BFF.fm is a freak flag bearer, representing the cultural side of San Francisco, the music lovers and the creatives, showing we're still here.
Between the studio space and the sense of community amongst DJs, all mediated and fostered by Station Overlords Amanda and Forrest Guest, BFF is easily one of my favorite things ever, and something I'm super proud to be part of!"
- Thorsten Sideb0ard of The Highpoint Lowlife Radio Show

"I am a radio freak. I wake up, turn on talk radio for a lil news, switch to music when I'm needing a lil boost or motivation. Radio has always been my source for culture, for region, for perspective. It forces the listener to use their imagination. BFF.fmis next level entertainment. It has something for everyone, and allows us, as DJs, to get as nerdy about music as it does mainstream! Thank you Amanda, Forrest, and the BFF fam for the most supportive and diverse year for me in music!"
- DJ MellyG of Te Aprecio Show
"BFF.fm is turning three, and my own two-year anniversary is right around the corner. I can still remember my very first show: I was late (thanks, Muni!), I was terribly nervous, and it turned out to be one of the funnest journeys I've ever begun. My show has morphed a bit since the start, but I still look forward to sitting down once a week and spinning some of my favorite tunes.
Happy birthday, BFF! Thanks for bringing together a bunch of music nerds in what has to be the weirdest and coolest radio studios on the planet. And thanks for letting me indulge my passions for Wham!, Big Star, and Factory Records bands in equal measure."
- DJ ZeroOne of Hang the DJ
"I'm not even sure I would exist without BFF.fm.
There I was, in an egg, caught forever skating along the terminator of day into night, never able to veer my course into one or the other. Then there were lights along the horizon... lights that read BFF. FM. And I was born... and I was borne... forever into the night, my new home. BFF. FM, you complete me." - Christopher Wind of HORIZONS
"BFF.fm is a club that I'm glad to be a part of. November marks my third year as a station DJ and no matter how I wax and wane with my dedication; I'm so very grateful BFF.fm is here. To write this, I plugged a boolean search into my monitoring software: ("Best Frequencies Forever" OR "BFF.fm") AND ("San Francisco" OR "SF" OR "Secret Alley" OR "Alley"). [Note, don't put in "BFF" as an option—trust me here.] Reading posts from throughout the internet reaffirmed something I long suspected: Cosmic Amanda as station mom, manager, and cheerleader has assembled a fantastically diverse group for this community we call a radio station.
This group of individuals has interests that include "community" and "music" and well, those are essential ingredients to a good life. Also, friendship, it's there in the station ID. I'm so jubilant we're hitting our toddler years and look forward to the year we can vote. Happy Birthday, BFF.fm—I love you!" - Mai of Mai + Charlie
"I have no idea how BFF.fm is turning 3 since I just turned 21! Right. Fact is, some of the most creative broadcasting I've heard in my 44 years (literally) on the radio emits from the Secret Alley every day and it's super groovy to be part of it since day 1-ish! Amanda and Forrest rock passionately in the most independent of ways. H.B. Bff.fm!" - Dennis "The Menace" Scheyer of Just Another Menace Sunday
"BFF.fm has affected our life positively in the following ways:
(Done in the style of Intervention obvi.)
- Really enabled us to double down on being lazy and justify our watching of Friends reruns even more
- Given us a platform to yell about Hulu.
- Helped our health by making sure we get plenty of Vitamin C each week.
- Allowed us to make some tough calls in the FMK realm (Leah adds it's helped me to achieve some much needed personal clarity re Joshua Jackson .)
- Won us huge fans (or at least a RT or like) such as Roseanne, Jay Duplass, Zander Lehmann, Tommy Dewey, and of course Larry fucking Mollin.
- Sent us on a trip that caused us to weep on a bug-infested field in Austin. In JUNE.
- Let us have some cool interviews with neat people.
The thing that has always amazed us about the community of DJ's and Amanda and Forrest the most is that everyone is here (unlike the cast of the Bachelor) FOR THE RIGHT REASONS. It's a community of really interested, creative people who all care about what they do and do a great job putting an individual stamp on each and every show.
Season 3 is when a lot of shows stumble, but BFF.fm won't be like the OC. It just keeps getting better. When we look back at the Kodak Carousel slides of our time there we see laughter, champagne, lots of hand gestures and technical difficulties on our end, but a very cool community we're thrilled to be part of. Happy birthday BFF!" - Leah & Jessica of TV on the Radio
And finally...
"2 favorite memories: when someone left their vape in the studio and that time long long ago when there was only one aux cord. We LOLed, we cried (well only when someone spilled something on the board), and it has been the best. May the smooth sexy sax play on for years to come..." - Nora of I Rock I Roll Radio