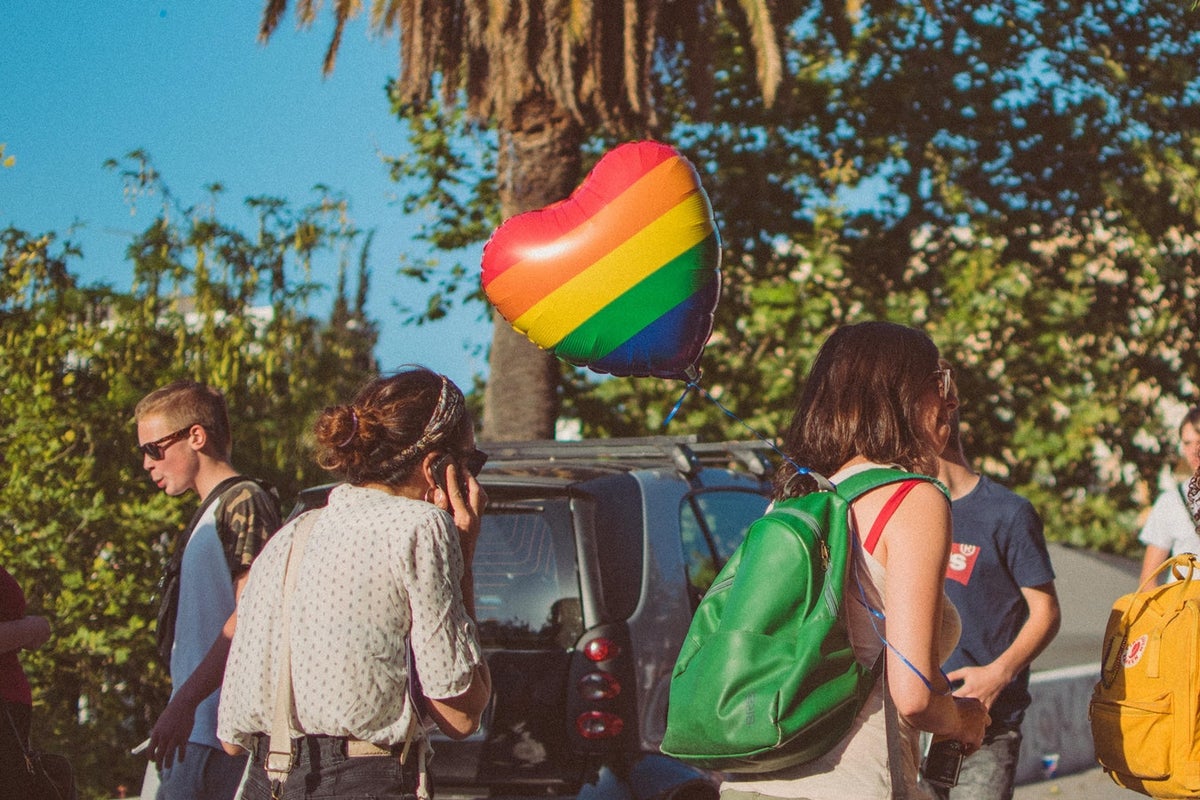 Be who you are and be proud. More than 40% of our DJs are LGBTQIIA+ and during Pride month, as always, it's important to recognize the contributions of queer people to Bay Area music, art, and culture.
This year it's especially important to us that we uplift Black voices and unite in the fight to end police brutality, the very cause that first gave rise to Pride. Here are some resources from GLAAD to help if you're unsure how to get involved.
We'll be updating this page with a variety of soundtracks that honor the various ways we celebrate.
Queer Earthis whole damn show is brought to you by genre-bending, gender-bending, queer, trans, fluid, and/or LGBTQIA+ artists so check out any of the past episodes for all the good stuff. (LISTEN)
Radical Advice: Rainbows Not RequiredNick Venegoni joined Lily Sloane to discuss transpersonal psychology, working with queer folks, and choice in how one expresses their queerness. They also discussed a listener question about aging and another about boundaries and friendship. (LISTEN)
Astral Projection Radio Hour: 🌈 QUEER 🌈 celebrating queer artists and queerness with Ah-Mer-Ah-Su, Lotic, Mhysa, Peaches, Janelle Monae, and more. Plus news of cursed emeralds, wind telephones, and the resurgence of the monstrous feminine. (LISTEN)
Bitch Talk: GLAAD Filmmaker Roundtable round table discussion with GLAAD entertainment reps Anthony Ramos and Jeremy Blacklow as well as filmmakers Matthew Puccini from Lavender and Mary Evangelista from the film Fran. (LISTEN)
Night Light Radio: MORE Pride 🎶👨‍❤️‍💋‍👨🏳️‍🌈 Live through the BFF.fm internet radio airwaves, Mz Prizm delivers you an upbeat selection of music from LGBTQ+ artists and allies, as well as around the theme of letting your freak flag fly! (LISTEN)
Night Light Radio: Pride Dance Party pt 1 Enjoy this San Francisco PRIDE DANCE party mix! This two hour nearly-nonstop-music episode will keep your body movin' and your heart full of rainbowz. Get into it! (LISTEN)
Sunny and Skeptical Air Show: Pride Rockets in Flight Celebrate the LGBT+ community with various decades of artists that represent sexual diversity, gender fluidity, and loving people for who they are. Get your rainbow sparkled vibes ready to explode with music from Elton John vs Pnau, George Michael & Aretha Franklin, Robyn, Ssion, Prince, Donna Summer, Lesley Gore, ABBA, Pictureplane, Savage Garden, and Hawksley Workman among many other fabulous artists. (LISTEN)
Music Ninja Radio: Celebrating Pride Through SF's Disco History Cosmic Amanda stopped by to pay tribute to legendary queer DJs through their own mixes preserved by San Francisco Disco Preservation Society. (LISTEN)
Radio Shoe: Queer Pride ShoeQueercore and Trans forward Radio Shoe with Special guest Kevin Devine.(LISTEN)
Hang the DJ: Pride 2018! (LISTEN)