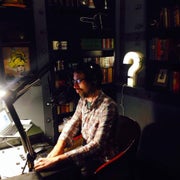 Dan B
Shows
sly declarations of new classic status slipped into lists of old safe ones...
Posts
The sixth full length album from the underrated east coast indie outfit.
The third full length from Melbourne, Australia's Dick Diverhas all the DNA of an indie pop masterpiece.
The debut full length from one of 2014's most exciting new bands is here, featuring members of Women and Chad VanGaalen.