BFF.fm San Francisco Music Scavenger Hunt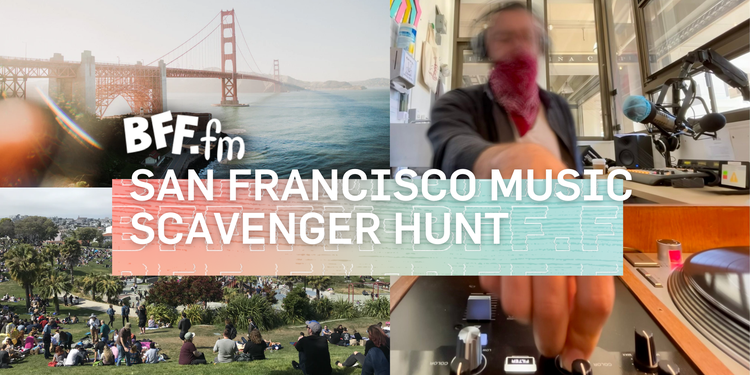 Have you always wanted to star in your own SF music video?
Do you know how many rickshaws there are inside Rickshaw Stop?
How many musical landmarks can you visit in one weekend?
If you can answer any of these questions, do we have a game for you!
This Labor Day Weekend, September 4-6, we're hosting a city-wide scavenger hunt that celebrates San Francisco's vibrant music scene. There will be more than 100 challenges that will appeal to music lovers of all ages, and of course there's chances to win fun prizes.
How to play:
You can buy tickets first and figure out who's playing on your team (and what clever name you're going with) later. If you're already teamed up you can purchase tickets together. Each team can have up to 6 players.
Your team will receive a special code to enter the game on Saturday September 4th, but in the meantime you can set up your in-game profile. (there may/may not be points awarded for most creative team name/profile)
2. Download the GooseChase app, and when you receive your entry code, join BFF.fm scavenger hunt.
3. The game opens at noon on Saturday September 4th and runs until 8pm on Monday September 6th. You can play one day, all three, or just complete the missions that appeal most to you.
There will be a variety of challenges that you can complete throughout the weekend, plus special location-based clues and challenges that will only be available between Noon - 8pm each day. You might be given 4 hours to check-in from a certain type of location across the city or will need to be at a location at a specific time to catch a pop-up band performance and earn points!
4. More info on prizes to come!
Brought to you by BFF.fm and our partners:

Are you a business interested in sponsoring our event? Check out our sponsorship levels.
The scavenger hunt is our new annual fundraising event and our goal is to raise money and awareness of our mission to to create powerful community radio for San Francisco. To us our mission means that our station must be inclusive of many people, provide airtime to those not breaking into the mainstream industry due to personal or systemic barriers, and support and celebrate underrepresented independent musicians. You can learn more at BFF.fm/about.