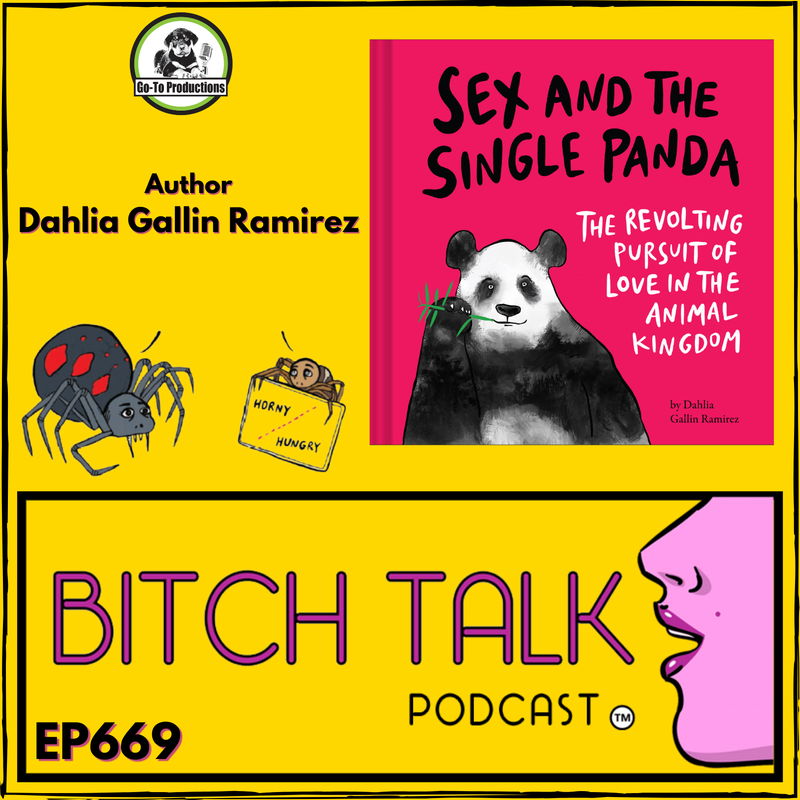 Well, we met a new best friend - her name is Dahlia Gallin Ramirez and she has a new book out called Sex and the Single Panda : The Revolting Pursuit of Love in the Animal Kingdom. The illustrated book was an idea that came to the cartoonist during the pandemic and explores the bizarre, intriguing, and often *disgusting* mating rituals of the animal kingdom. The book brilliantly sets itself up like a dating app in which the animal (male or female) writes up their "profile" first before you, the reader discovers what type of animal it is. We encountered a lot of surprises along this illustrated journey for instance did y'all know that the western honey bee leaves their peen inside female honey bees and then they die!? It's a total suicide by mating mission. WHAAAA??? And, there are also animals that have BALLOONS ON THEIR BODY to entice the opposite sex. Do you have a balloon on your body to attract an interested party? Wait, don't answer that.
We had a great time talking with Dahlia and finding out about her artist journey so please head to your local bookstore and purchase her book. The knowledge you'll gain will certainly come in handy at your next neighborhood pub quiz.
Follow Dahlia on IG and her website
Purchase Sex and the Single Panda here
--
Thanks for listening and for your support! We couldn't have reached 600 episodes without your help!
--
Be well, stay safe, Black Lives Matter, AAPI Lives Matter, and thank you for being vaxxed and masked!
--
Subscribe to our channel on YouTube for behind the scenes footage!
Rate and review us wherever you listen to podcasts!
Visit our website! www.bitchtalkpodcast.com
Follow us on Instagram, Facebook, and Twitter.
POWERED BY GO-TO Productions
Subscribe to Podcast
Subscribe to Podcast
https://feeds.simplecast.com/jU_gleUJ
Or, search for "Bitch Talk Podcast BFF.fm" anywhere you listen to podcasts.