New in Post-Grunge and Punk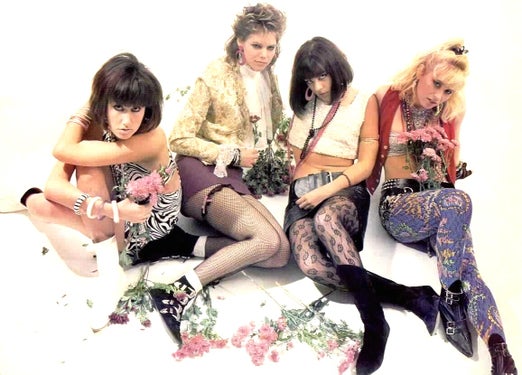 We've reviewed the latest albums that carry notes in a less than dainty fashion. These artists make some noise about societal injustices or general internal agitation manifested in genres of Post-Grunge and Punk. The following works offer an array of fervent emotional release by Speedy Ortiz, The Pandoras, and Bad Waitress.
---
Speedy Ortiz
Album: Twerp Verse
This group's third album is a fierce, grungy, garage rock compilation. The spunky, assertive, mostly quick paced buzzy pop-rock quality encourages a collective mood to dance and/or get outraged by the absurdities of society. Much of the album carries overtones of feminist rhetoric- "Get a Yes" is a song that explicitly states a powerful consent-positive message. In other tracks the lyrics center around a playful monotone that gradually dips into stern, vulnerable lines. Lead singer Sadie Dupuis uses an abundance of playful slant rhyme and clever punny moments interlaced throughout the entire collection, balancing a light-hearted spirit with a conviction to speak out against sexual assault.
Below is "Lean in When I Suffer"
---
The Pandoras
Album: Hey! It's The Pandoras
This album is jaunty, with screeching vocals akin to Joan Jett and at times evokes a B-52s party vibe. Songs illustrate topics like the excruciating pain of having a crush to the point of obsession, and coming to terms with dismantling the infatuation in "Just A Picture." The collection explores different paces of happy-go-lucky pop that gradually dips down into a sinister notch with a heavier punk quality, disturbed and exhausted in songs like, "You Burn Me Up And Down" (a re-recording of its original 1986 release). The sound captures the agitation of getting thrown around with their wailing electric riffs that harmonize perfectly with the vocals to create a tantrum effect. The range spans from pretty to gritty moods in both sound and lyrics that is sure to please any crowd.
Below is "Just A Picture"
---
Bad Waitress
Album: Party Bangers: Volume 1
Bad Waitress catapults the very rowdy core of punk. In their new album they dish a healthy helping of expletives and embrace the chaotic rock tradition of lashing out via panicked lyrics and distorted rapid guitar and drum tempos. Racing and raging through gnarly lyrics like "we don't mind hanging out in the junkyard", this album is an echo chamber of distraught coping strategies, venting the inferno boiling within the ego. This cauldron of the self is conveyed boisterously in "Rabid Dog", with a stellar accompaniment of deranged back up barking. Some folks take anger management courses, but we also recommend listening to Bad Waitress if you want sonic inspiration to get some aggravation off your chest.
Below is "Acid Brain"
You can also support BFF.fm with qualifying purchases made via Amazon Smile. Every bit helps!