Meet the BFF.fm DJs: Just Stella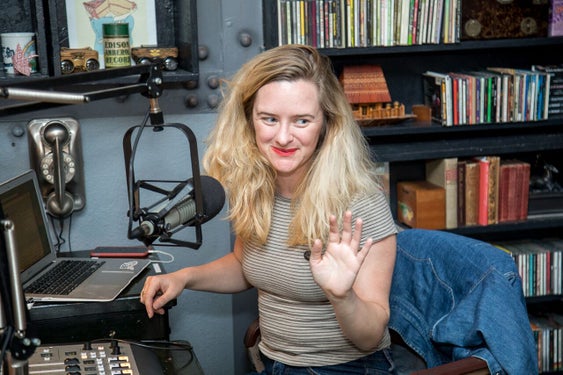 BFF.fm Studios, June 1, 2018 Photo by Jaime Borschuk | http://jaimeborschuk.photo/

Just Stella is not just any DJ. She's one of BFF.fm's original radio personalities, host of the wondrous Radio Shoe. Off air, she's San Francisco native and SFMOMA employee Stella Lochman. While she's taken advantage of dual French-US citizenship to try out living in France, Stella boomeranged back to SF- her favorite place on the planet. Her entrance into the DJ sphere sprung from an early affinity for the San Francisco garage rock scene and her adamant support of local bands. About a decade ago, Stella started a tradition of making four mix tapes a year, one for each season, handing them out to friends to crank over their boomboxes. But these days, she puts on a bang-up two hour show every week!

Radio Shoe debuted in November 2013 and since then Just Stella been pumping out sensationally cool, mostly thematic episodes covering an elastic spread of genres including R&B/Soul, psychedelic, garage, freeform, surf, power pop, oldies, and Tropicália. These shows have grown into a ginormous portfolio, including titles like "Britpop", "Blues for B.B.", "Gardening", "Class Warfare", "Star Trek Shoe", "Bear-a-Tone (Low Voices)", among a multitude of other topics. She occasionally invites a guest or two to sit in and chat about the songs and themes.

Each shoe is like a mini-museum exhibit, with Just Stella its devoted curator. She strategically uses creative lenses to investigate the significance of microscopic details we might've overlooked and brings them to the light of day for us to marvel at. She curates surprising nuggets of knowledge woven into a fascinating, cohesive collection of music within each show.

We had a treat of a time sitting in on one of Just Stella's shoes, and learning more about her DJ journey, as well as some fun facts inside and outside of her music endeavors through the Q&A below...

---
How long have you been a DJ, and how long have you DJ'd at BFF.fm?
JS: I've been a DJ since 2008, got into it due to my pastime of creating summer mixed cassettes and giving them to my friends. Before BFF.fm, I hung out in the Secret Alley attending a ping pong party league and crossed paths with Amanda Guest (BFF.fm's founder & GM). We hit it off and she told me about a new radio station she was jumpstarting, and that's when I became a radio DJ, 5 years ago this November.
Outside of your DJ gig, what do you do?
JS: I'm an Artist Project Producer and Researcher at SFMOMA's Education Dept. Which in a nutshell means I take the concepts of artists and actualize them through extensive fact-checking, research and coordination for various projects.
Who are your favorite artists at the moment?
JS: Thee Lakesiders, SF's Terry Malts- fan of indie label Big Crown Records. My favorite band of all time is Oasis (*expressed with much fervor).
What's your finest DJ moment(s), or your favorite thing about DJ'ing?
JS: One compilation I take most pride in is the pairing of Martin Luther King, Jr.'s speeches with music based on the Civil Rights/protest era (which you can check out here).
What song or artist do you like but rarely admit to liking? Is there such a thing as a guilty pleasure in music?
JS: Since Oasis is my favorite band of all time, you can gather that I'm pretty unapologetic about any musical tastes. You like what you like.
What's the most immature thing that you do?
JS: I don't know how to drive. Also, I'm an SF native who reaps the luxury of having family within close proximity and when I'm stressed at work, I buckle and shoot a text, "Mom! Can you pick up cat litter for me?"
---
What does the future hold for Just Stella and Radio Shoe? Stella says, "I want to be a Spotify celebrity!" She loves how the streaming platform can be used as a social tool and favors user generated compilations over its algorithmic collections.
But in the meantime, Stella appreciates BFF.fm for representing what radio community can mean in a passionate, committed, adaptable, and nonjudgmental atmosphere- which is why she's stuck around since the early days and isn't planning on jetting any time soon.
Also...
We highly recommend listening to this recent episode "Slightly Summer", the ten year anniversary of her legendary Summer Mix Cassettes, (which she so kindly let DJ Mr. Darcy and Jaime sit in on). Follow Just Stella on Spotify as well as BFF.fm to listen to her weekly playlists.