Kadhja Bonet's "Childqueen"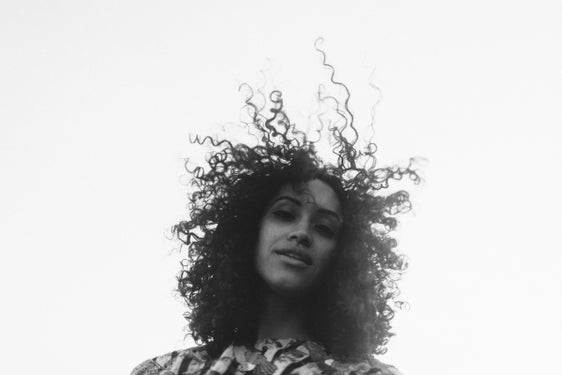 "...born in 1784 in the backseat of a sea-foam green space pinto. After spending an extraordinarily long time in her mothers plasma, she discovered the joys and gratifications of making noise with her hands and face while traveling at maximum velocity through intergalactic jungle quadrants." - Kadhja Bonet's bio
Kadhja Bonet's second album Childqueen is like Billie Holiday meets the soundtrack of Willy Wonka & the Chocolate Factory meets Baroque classical music meets Donna Summer. Bonet not only has a rich vocal range, but is also a wildly talented multi-instrumentalist. In early childhood she trained as a classical violinist and taught herself how to play many other instruments within and outside of the classical genre. These mad skills obviously lend much of the unique concerto quality of her sound. With variations of a badass classical choir along with fluttering flutes, violins, and piano that transmute into a funk-rock composition, the listener can feel like they've travelled to an opera house balcony in a masquerade party hosted by Sly Stone.
Some critics liken Bonet's voice to a 40s Disney Princess, which is apt, but we'd add there's an essence akin to 70s disco and jazz, especially similar to Donna Summers. Much of the record imbues the feeling of entrancement, like being inside an Herbal Essences commercial, only not cheesy. Other songs exude beach indie vibes and 60s soft rock with aloof, minimalist lyrics. About mid-album, the sound treads into posh orchestral-oriented "Delphine." This song has a wistful jazz quality, with Bonet's velvet vocals carrying over into psychedelic reverie, and then drops some killer synths that create a smoldering, pervasive, almost underwater muffled seductive sound.
The moods blend despair, fear, and some rambunctious breaks, which Bonet elaborates more on the emotional process of the album, "Everyday I'm trying to be more of myself…. to travel through dark nooks and crannies, lifting off layers to gain clarity."
Get your happy ears on board to this multi-textured, sensual and spirit-searching experience which you can buy here.
You can also support BFF.fm with qualifying purchases made via Amazon Smile. Every bit helps!
Below is "Mother Maybe" which has a 70s Isaac Hayes-ian disco/funk rhythm.