Geographer Bids SF Adieu, But Not Before Swinging by The Secret Alley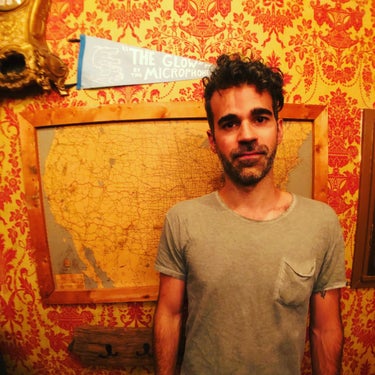 BFF.fm Studios, July 24th, 2018
A few Espresso Sesh's ago, Nino Msk had an intriguing chat with Michael Deni, the front runner of San Francisco's indie electropop sensation, Geographer. Deni recently announced that after 12 years in San Francisco, the band is jumping ship. The Fillmore show on July 28th marked their SF farewell performance (only as a resident- he assured us that he's coming back for future tours). In the episode, he takes us through the ins and outs of what it's been like to develop musically and into the person he's become, highlighting the Bay Area's impact as a "cornucopia of experiences."
Deni jokes that he continues making music within a dead genre... indie rock/pop. However, this year's April release of Alone Time, is a sound that begs to differ in its soulful, generous on the synths, mystical dance-invoking quality, all of which summons the spirit awake. This enlivening energy emerged when Deni first moved to San Francisco in the summer of 2005, where he says the new place was an "awakening of possibilities...it was where you went when you were a freak or an outcast." Before moving from his home in New Jersey, he explains he had zero clue what to anticipate. He simply hopped into a car and crashed apartment floors on Haight Street. The stark contrast he quickly found is how folks so nonchalantly accepted the occasional nude person strolling along the Castro neighborhood, or him and a buddy cutting out a conjoined skin tight Lycra jumpsuit they wore together on Halloween, and many other eccentric lifestyles that you just won't see in the East Coast suburbs.
He met original Geographer band mates at The Hotel Utah's open mic nights. Around the same time, during a run in Golden Gate Park he first encountered a discarded synthesizer on the street, the beginning of what would become a fruitful relationship. He says he was possessed by an iron fisted confidence of youth, believing "I WILL BE A MUSICIAN." And by this force of will, quixotic or not, he developed a technique and style, as well as honing the skill to write lyrics. He claims that he had been writing terrible songs since the age of thirteen, and didn't write a good song until he was twenty-four, in the debut album Innocent Ghosts. All of this a testimony that being a successful musician isn't about the raw talent (which is needed) but also, too, a diligent work ethic. It's a 24-hour job tethered on planning, which includes deciding tour dates, booking shows, figuring out particular accommodations, posting advertisements on social media, finding restaurants everyone likes (that's Deni's specialty), among other ongoing duties. One of the most important tasks though is being nice to people. A Vonnegut principle of "God damnit, you've got to be kind" he insists it's an absolute necessity to take care of everyone in a band, including himself.
When he's not doing behind the scenes work, he's constantly writing or recording (he wrote over 220 songs in 2 years!) He quashes some misconceptions about the musician's life, those that glamorize certain aspects. He describes the arduousness of making music as a process that requires suffering in order to feel joy. Before his first album, he had been grieving his sister's sudden death, followed by his father's death a year after he moved to SF. These tragic events represent a catalyst for Geographer. For Deni, the purpose in making music was taking "feelings that were challenging and then turning them into something beautiful... All I wanted to do was salve a wound in myself with music, and create something that would make me feel a certain way when I perform on stage." Therein lies the light at the end of the tunnel. The miraculous peak of making music is when he enters a stage in front of an electric crowd, where he says each time he performs "I would walk through hell for this." The sharing and connection he feels with others in music is the silver lining, the reward of all the excruciating hours, days, months and years he toils within while writing and composing music. After making a song or album, it pains him to have to wait through the process of recording, producing, promoting before being able to share it with a crowd of people.
Deni references Dark Side of the Moon's development from Pink Floyd's previous albums in songwriting, as a comparative model to write about complex subjects but in a straightforward way. He says the heart of indie music and culture is to be thoughtful. There can be blurred lines between sound and lyricism in what defines the catchy Top Ten hits in distinction from the abstract "indie" music genre. Neither category holds more value over another. They have a sonic apples and oranges sort of significance, whose effect/purpose is validated by the listeners' arbitrariness in a constant shifting of time, place, and mood. Geographer's latest album reflects the group's evolution to still complicated, but more direct lyrics and sound, making the music more "pop"-centric and easier to get into the meaning. The reason being that they were "tired of strange, obtuse statements." He discusses the enigma of what makes a timeless hit, especially delving into classics by Paul Simon- one of his greatest influences- Fleetwood Mac, and James Taylor, meditating on their ability to tap so deeply into people's soul with their songs.
Deni's deepest fear...losing the thread. There's no clean cut explanation or formula as to what makes people like certain bands. Some of his favorite contemporary bands are Arcade Fire and Father John Misty, and he confesses that sometimes even their work is hit or miss. Which relates to his take on the creative process, a catch-22 sort of disposition. He grapples with finessing a balance of making what he likes while being attentive, but not too attentive of how it will be received, saying "I'm tired of not doing things because I'm scared of how people will react to it."
In Geographer's imminent departure, Michael Deni reflects that "a place guides who you are." And who he's become with Geographer is simply astonishing through the accomplishments he's made through the Bay Area music community. Nietzsche writes, "one must still have chaos in oneself to be able to give birth to a dancing star", which is what Deni beautifully embodies in their music. He accredits the fuel to write songs from a constant feeling of inadequacy, which always gives you a reason to improve. His poignant self-awareness and willingness to be open is a refreshing sentiment to witness in a musician's perspective. On relocating, Deni says, "San Francisco is still beautiful, I'm passing it along to other people….it's served its purpose, showing me how to live and how to develop my sense of self." As it goes for any artist's challenge and their search for progress, Geographer was bound to mix things up geographically. San Francisco appreciates the bejeezus out of the magical sounds they made in their time residing here. We wish Michael Deni and the rest of Geographer the most wondrous adventures ahead of them.
Listen to and support Geographer