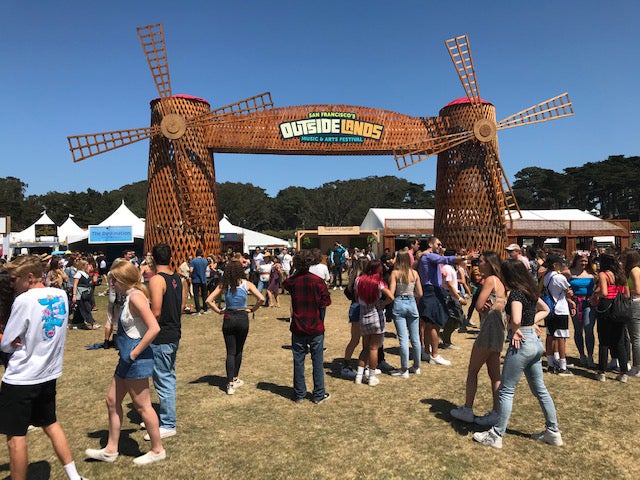 There's a lot to take in at Outside Lands music festival. Of course, there's music, but also food, comedy, weed, visual arts, beer, merch, cocktails, celebrity chefs, and people. Lots of people. No one person can experience it all, and there are many paths you can take to find music festival enlightenment. Here are some of the highlights we found on our three-day journey in Golden Gate Park:

Lil Wayne
Lil Wayne could easily claim the title of mainstream hip hop's court jester, and we love him for that. He hit the stage draped in at least 5 pounds of bling, bleached dreads and more tattoos on his face than we could count. The sun was out and the peak Friday afternoon festival crowd was ready to party to new tracks from the Carter V – one of the best rap albums of 2019 – and Weezy classics like "Go DJ," "A Milli" and "Lollipop."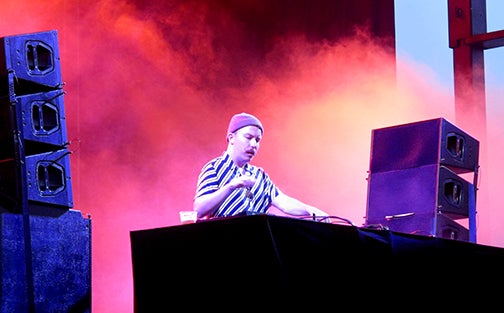 Luttrell
The force was strong with the dance music contingent all weekend. Lutrell had the perfect house mix on Friday that pulled a small but enthusiastic crowd to the Panhandle stage just before the Lumineers offered a completely different experience nearby. We're convinced the SF-based DJ converted at least some of their fans.

Yaeji
Taking a minimalist approach with just two digital turntables, a microphone and no stage production except for standard lighting, Yaeji delivered all the feels. Her set veered from downtempo electro-pop to thumping, deep house tracks that lured a large crowd to the Sutro stage.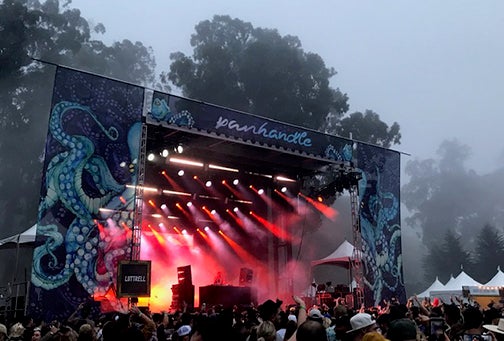 The Fog
It's a great band name, but we're literally talking about the fog (Karl, if you will). We've been living and breathing in SF's foggy summer since June, but it takes a surreal turn when it dances through the trees, stage lights, performers and 60,000 people circulating through the festival's massive footprint. Nature wins again!

Flying Lotus in 3D
We were excited for Flying Lotus heading but skeptical about the "3D" billing – how good could it really be in an unruly outdoor festival environment? Lesson learned. Never doubt the mastery of FlyLo. The psychedelic visuals popped from the stage and sprinkled our cerebral cortex as all sorts of bass shook our core. It was the perfect closing set for the first day of the festival that seemed to gently peak before fading out into the avenues as the night came to an end.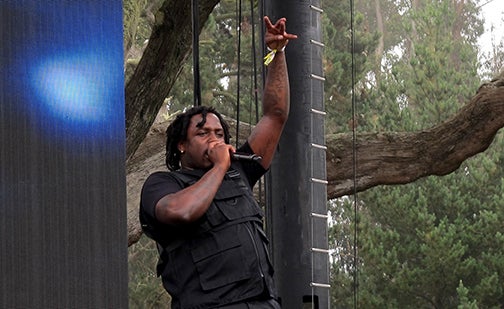 Allblack
Oakland rapper Allblack wasted no time getting the crowd hyped during his opening slot at the Twin Peaks stage on Saturday. Hardcore fans were moshing near the front of the stage at the end of his set while dancers twerked behind him. In a sign of approval, he almost jumped in and joined the crowd, but his security talked him out of it. In appreciation, he threw his shoes and other clothing into the crowd instead.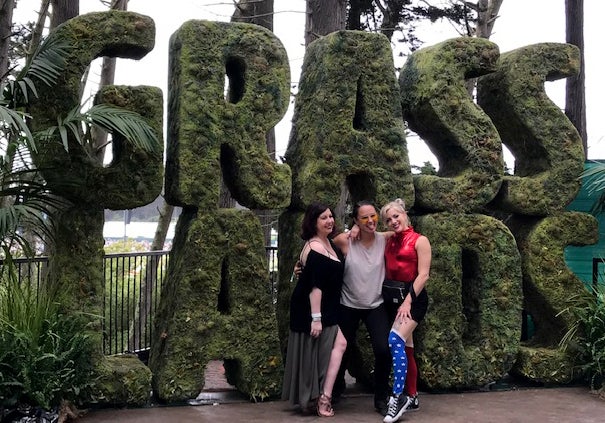 Grass Lands
Legal weed for sale at a music festival. This is America, 2019. Grass Lands provided a cannabis-inspired utopia for festival-goers to purchase and consume their favorite strains, try samples, and participate in fun activities, including a contest to see who could make the best bong out of fruit. The winner was selected at 4:20 and won a bong from a festival vendor, of course. If this is the future of music festivals, we're all for it.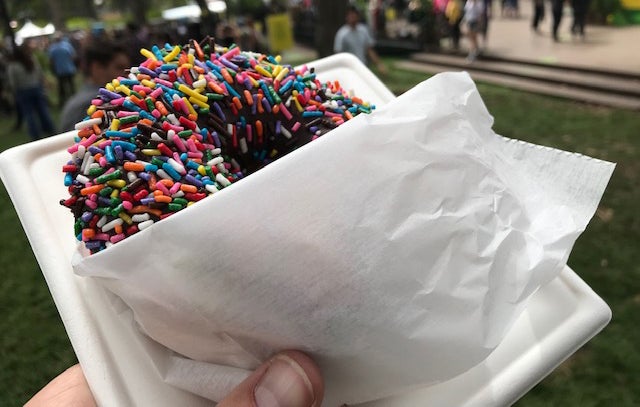 Johnny Doughnuts
Whoever approved the Johnny Doughnuts stand in Grass Lands is a genius. The fluffy doughnut topped with chocolate icing and sprinkles was big enough to share and satisfy any munchie-induced sweet tooths.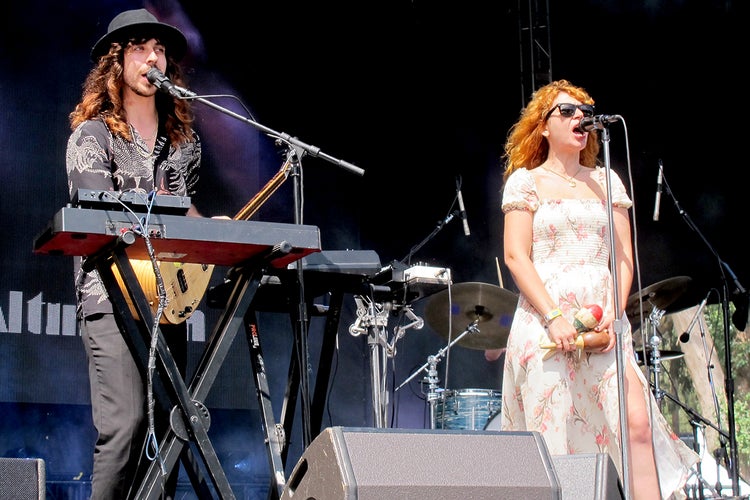 Altin Gün
Altin Gün offered one of the more interesting sounds at the festival – a heady dose of Turkish psychedelic rock during a Saturday afternoon show at the Panhandle stage. The band's songs fuse traditional Turkish instruments and vocals with the underground psych rock styles of the 60s and 70s for a fresh take on the genre. The stop at the festival was in the midst of their first U.S. tour behind their new album on ATO Records.
Santigold
It seems every year at Outside Lands, some sort of snafu plagues a high-profile performance. Sadly, the trend continued with Santigold. Her set started about 10 minutes late after she walked on stage to explain a technical issue with her band was the root of the problem. She persevered and it appeared the situation was eventually resolved as she ran through many of her most popular songs. In classic Santigold form, she invited a couple of dozen fans to dance on stage during "Creator," a highlight from her self-titled album that was celebrated this year with a 10-year anniversary tour.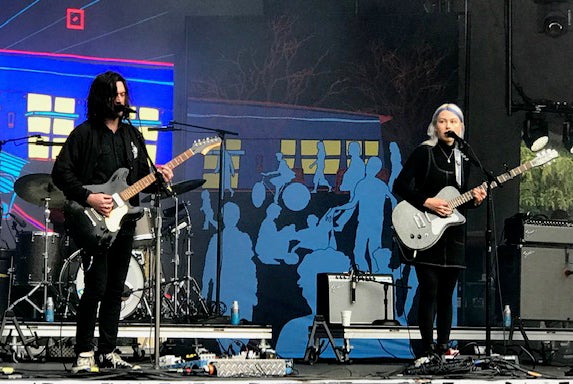 Better Oblivion Community Center
Straight-ahead indie rock was a bit hard to find at Outside Lands. Luckily, the wonderful combo of Conor Oberst and Phoebe Bridges helped to fill the void with Better Oblivion Community Center during an early evening set at the Sutro stage on Saturday. The songs from the band's self-titled first album translated perfectly to the stage for a sincere but playful performance.
Childish Gambino
The Saturday headlining performance from Childish Gambino was by far the most anticipated act of the weekend. A bare-chested Donald Glover in loose white pants was the master of ceremonies for a hip-hop and R&B revival that felt like it channeled the stadium-size energy of 1970s powerhouses P-Funk and Marvin Gaye. It felt like a well-oiled machine – if not a bit scripted – as his band and dancers worked through the hour and a half performance. But there was no shortage of shout outs to Oakland and the Bay Area, and Glover showed genuine appreciation for the tens of thousands of fans there to see him. "Keep Gambino in your heart," he told the crowd before dipping into his hit "Redbone" near the end of the night.
Cherry Glazerr
Day 3 of a music fest can be rough. Weird aches and pains start to emerge after two days of standing, walking and being jostled in dusty pathways. But none of that mattered as Cherry Glazerr took the Sutro stage early on Sunday for a loud and blistering set in front of two giant cherries that sat behind the trio. It was the most rocking 45 minutes of the weekend, and the perfect Sunday motivation to carry us through the day.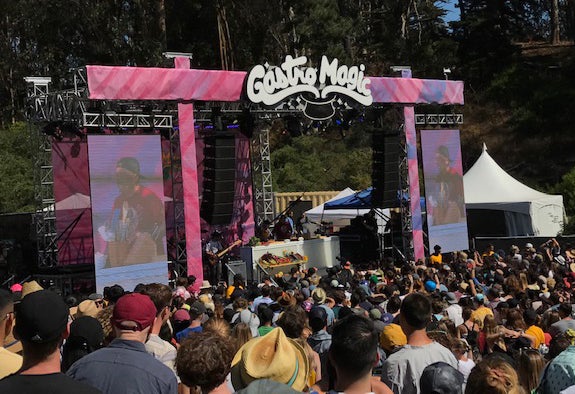 Vegan burritos with Anderson .Paak and Roy Choi
A hawk slowly circled overhead in the unusually warm and cloudless Sunday afternoon sky, keeping an eye on the scene and, perhaps, waiting for an opportunity. Below, the Free Nationals played a jazzy number as celebrity chef Roy Choi and Anderson .Paak assembled a vegan burrito that was the result of a recipe that celebrated their shared Korean heritage and their ties to LA. "How many of y'all fuck with tofu?" Roy called out to a crowd that overwhelmed the Gastro Magic stage. The response was encouraging. Moments later, they were done and a foil-wrapped burrito was sent airborne to celebrate the occasion. Time slowed as it unraveled in the air and showered fans with pico de gallo, marinated tofu and rice. Things don't always go as planned at music festivals, but there were more burritos to come, and at least a few fans left with a free dinner. Everyone was entertained.
Paul Simon
As Sunday came to a close, we were left with a tough choice – Anderson .Paak, Paul Simon or Kygo? While Anderson .Paak was the crowd favorite with a massive audience at the Sutro stage, Paul Simon showed Outside Lands why he is one of the most celebrated American songwriters. For two hours he shared classics from his solo work and Simon and Garfunkel with a large band that included a string section. Bob Weir of the Grateful Dead made a cameo for "The Boxer" and the crowd sang along with approval. The night ended with just Paul Simon and his guitar alone onstage, a quiet and fitting end to a long weekend in the park.
Matt Crawford (a.k.a DJ Metro Matt) hosts Tender Knob Radio on Sundays 6-8pm.