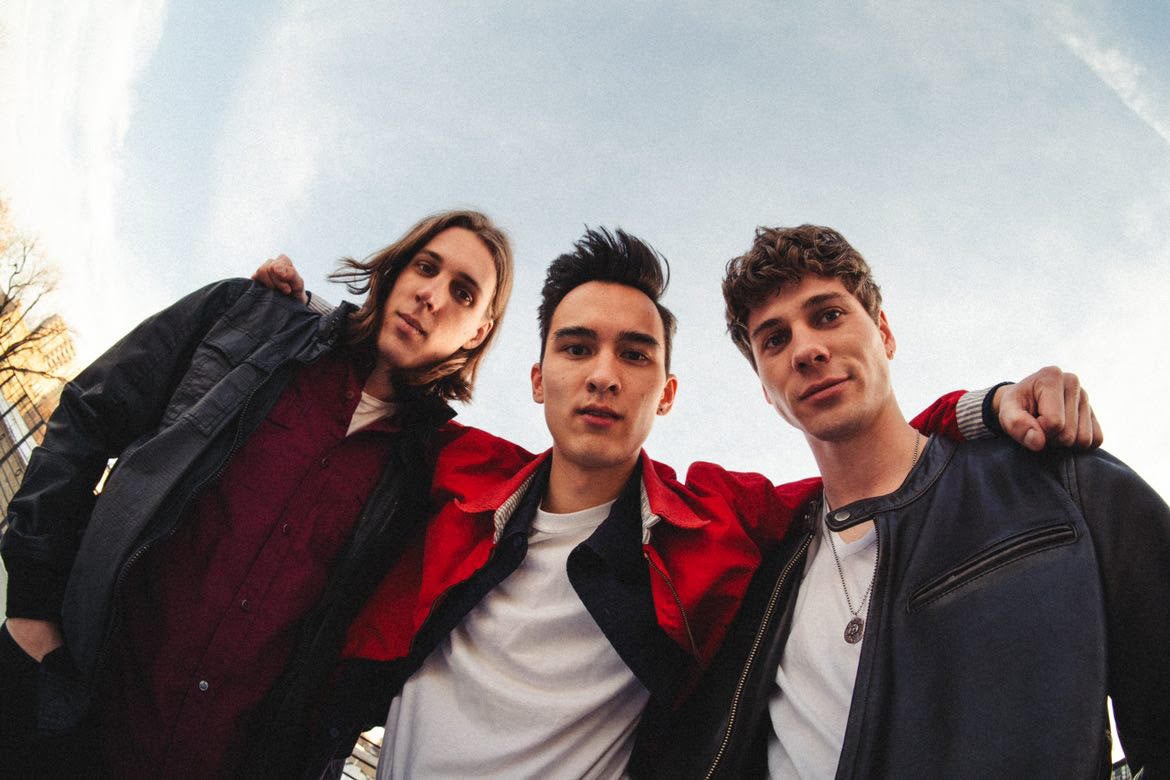 If you were to write a memoir, what would it be called?
"Holdfast.. goes.. fast?"
I had the pleasure of getting to interview the band Holdfast along with my sister (@sofistyledesigns) before their show in Berkeley at The Cornerstone.
Holdfast. is a Colorado based band made of 3 brothers Charlie, Mikey, and Tommy Maddocks.
They have been making noise together in Charlie's basement since they can remember and are currently on their second album, Stay and Fight, went on their first tour with Red Rum Club in 2022, and have just released their newest single Everything Wrong.
But Google can tell you all of that.
Here, we like to dig for the important things. The answers to the questions you REALLY want to know the answers to. Like what would this band do if they had a time machine? What would their future memoir be called? What are their go to songs to scream along to on long car rides? Only the important stuff, obviously.
Q: okay so you three are related, right? What's the age difference?
Tommy: So Charlie is my cousin, and Mikey is my brother, but its just easier to say that we are brothers since we grew up like brothers anyway. Mikey is the oldest and then Charlie and then me.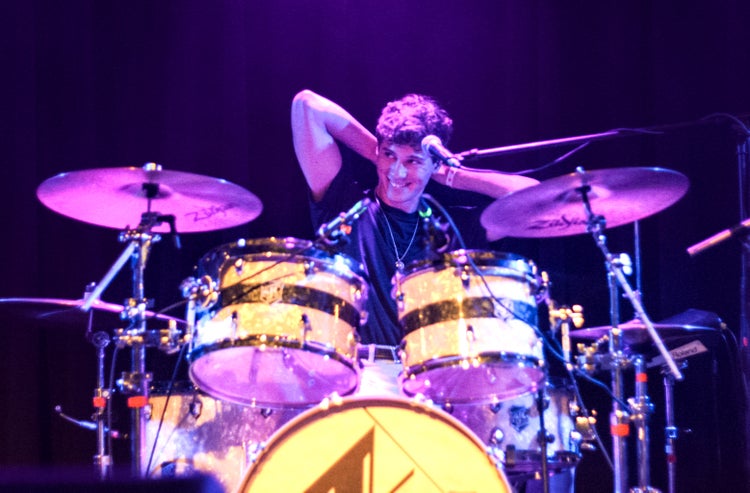 Q: You spent a lot of time together growing up. What is the earliest happy memory you have with each other?
I think just being able to go over next door to Charlie's to play music.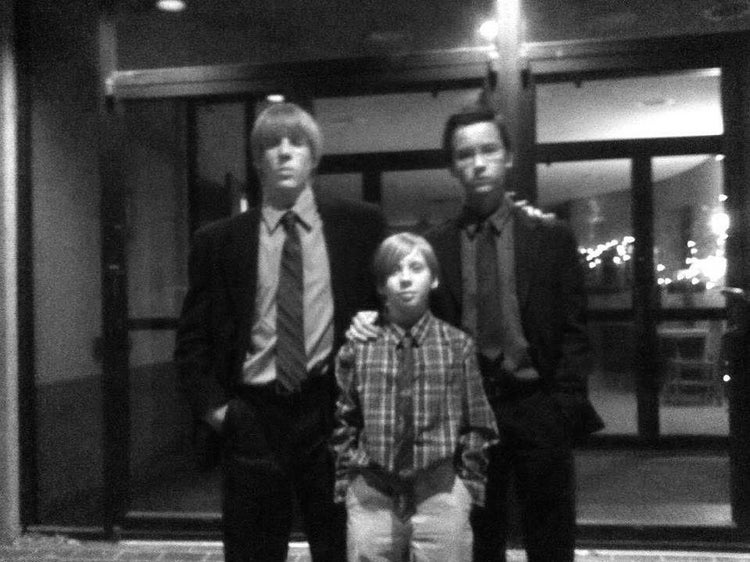 (pictured from left to right, Mikey, Tommy, and Charlie as wee little lads)
Q: Favorite song to sing in the car together?
Mikey: This is going to sound weird but red rum club has a song called Vibrate. When you're touring with a band you do get to hear their set every night so you would think that we would listen to something else when we are driving from show to show but…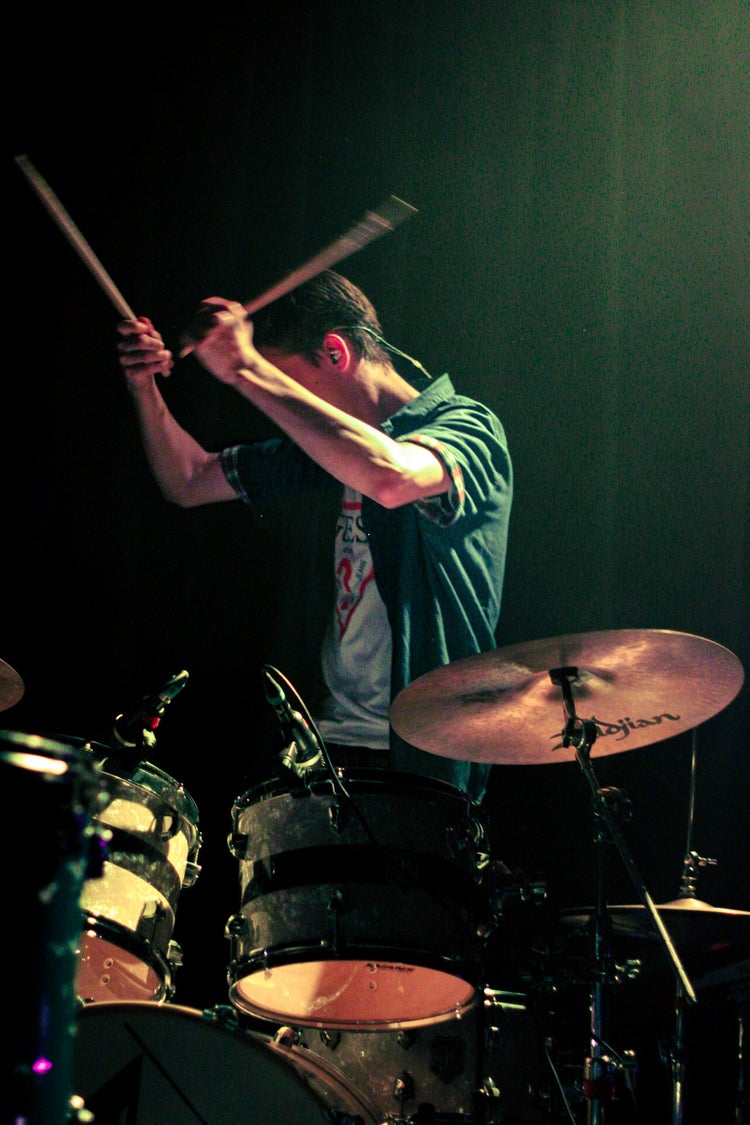 L: ...but you just listen to Red Rum Club's whole discography on the road?
Tommy: yeah pretty much! So yeah. Vibrate by Red Rum Club.
L: Can you give us a demo?
Mikey: uh. No.
Tommy and Charlie start singing "I'm sorry that I missed your call-" before breaking out into laughter.
Q: If you had a time machine and could go back to your younger self, what would you tell them about what you are doing now and how do you think they would react?
Charlie: We have been doing this for quite some time so to hear that we did grow up and chose to continue doing this would be very encouraging.
Tommy: I think if I were to tell my younger self that we are on tour with a band from the UK he would be like "WHAT!" like just completely freak out. And! Also that we are headed to the UK to play music.. Hopefully.
(spoiler alert: they did tour across the pond. It was epic.)
Mikey: I think.. Hmm. I think that I would tell myself to continue doing the thing that doesn't seem fun or even like it's not contributing to the end goal because it actually is and it's allowing me to do it comfortably.
Liz: Do you mean like leave the boring job and do the band full time?
Mikey: No the opposite actually.
Charlie: "Yeah Mikey used to be a tech engineer"
Mikey: "I mean like keep the non artistic job because it's going to pay the bills and it's going to pay for the band stuff until playing music pays for playing music, you know?"
Sofi: ah yeah. Like feed your soul but also make sure you feed your stomach
Mikey: yeah exactly.
Sofi: That is very surprising actually but really good advice. I think being in this industry, in a different way of course, you learn pretty fast that it's not an overnight success kind of thing. And when you do start seeing some success it's not constant. And it doesn't come with benefits.
Mikey: Yes exactly!
Liz: yeah like i want to do all of these things because its what I'm passionate about but i need a steady stream of income to make my car payment, and pay for gas, and yeah- benefits. Health care is mad expensive and I got teeth to fix, prescriptions to fill, and mental health to tend to.
Go buy some Holdfast. merch so nobody has to work a soul sucking job ever again, and also because its good merch.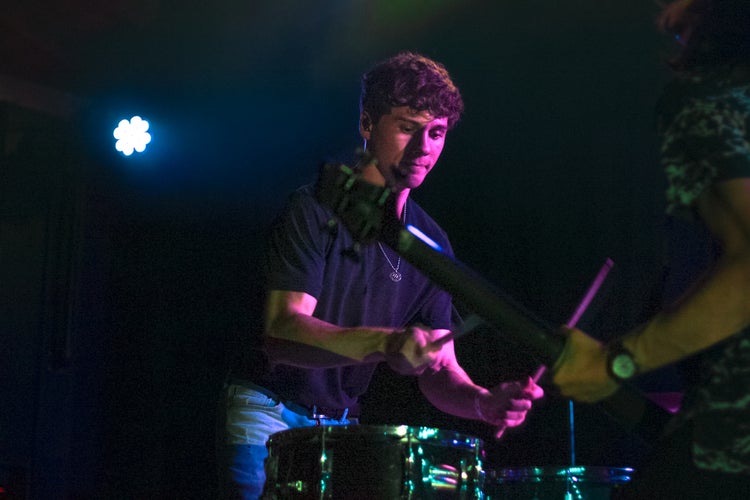 Q: Favorite snack that you cant survive without?
Charlie: Lacey brought these like.. Milano cookies? I think they are. And i have been eating one everyday
Tommy: So I can't have dairy-
Liz: OH MY GOSH SAME
T: Or gluten
L: ME EITHER!
Tommy: wait really?
L: really! I have a gluten intolerance and cant have dairy so im vegan.
Sofi: you guys just had a connection right there
L: I have so many recommendations for you!
T: well i got these little coconut rolls
L: wait are they from sprouts?
T: uhh.. maybe!
Charlie: they are like piroulines but without the filling
L yeah they come in like little trays-
T: yeah! Yes! They're so good!
L: they are! They also make ice cream cones! But there is a place here in the bay called Kitava and they have the BEST gluten free brownies!
M: wait are they black bean brownies?
L: uh black bean brownies?
M: hey - don't knock em til you try them.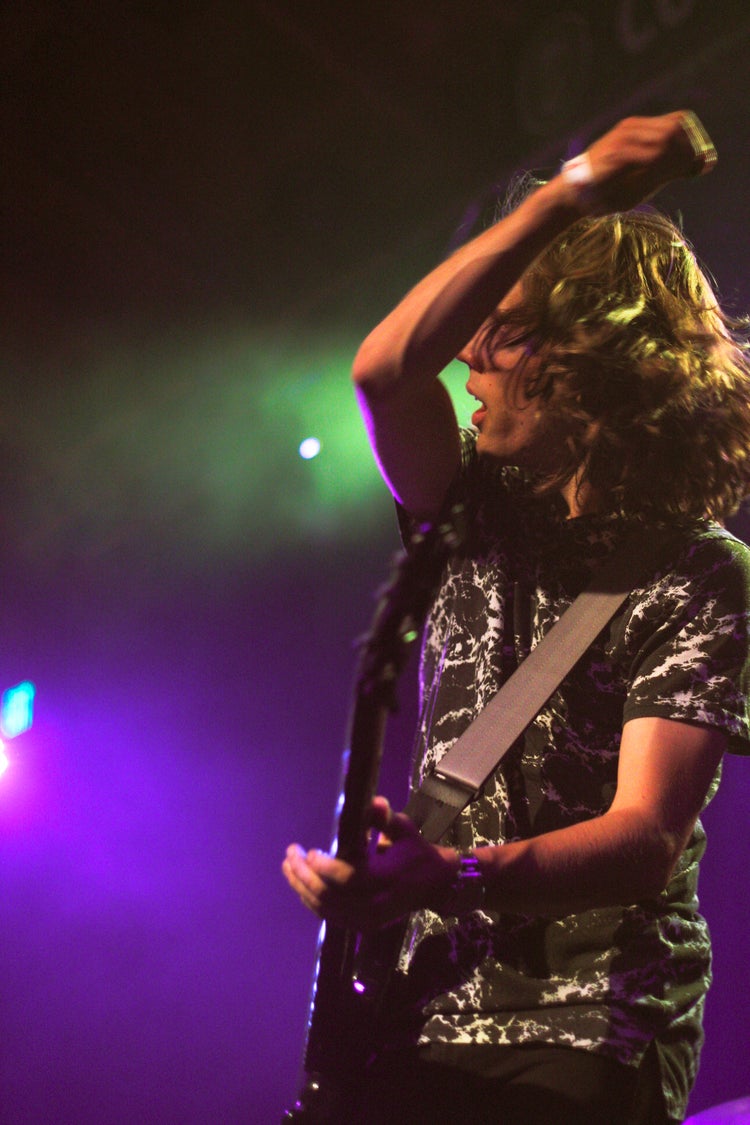 Q: What is the hardest thing you do for a living? And how sleep deprived are you?
Charlie: Actually not that sleep deprived. We drive in shifts so we all get to sleep. But I definitely miss my bed. I think when we get back home I'm going to sleep for 24 hours straight.
Tommy: Yeah I think just being away from home. But our parents pretty much our managers so we usually have them at our shows.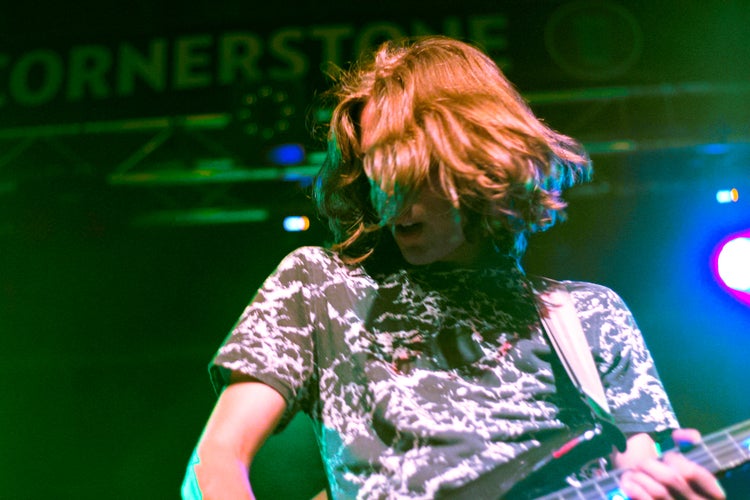 Q: What would be the title of Holdfast.'s memoir and what would this chapter be called?
Mikey in between bites of his burger (respect. around here we like to multi-task, but most importantly we like to eat.) : I don't know about the memoir - like the whole book. But this chapter would definitely be Red Rum Club.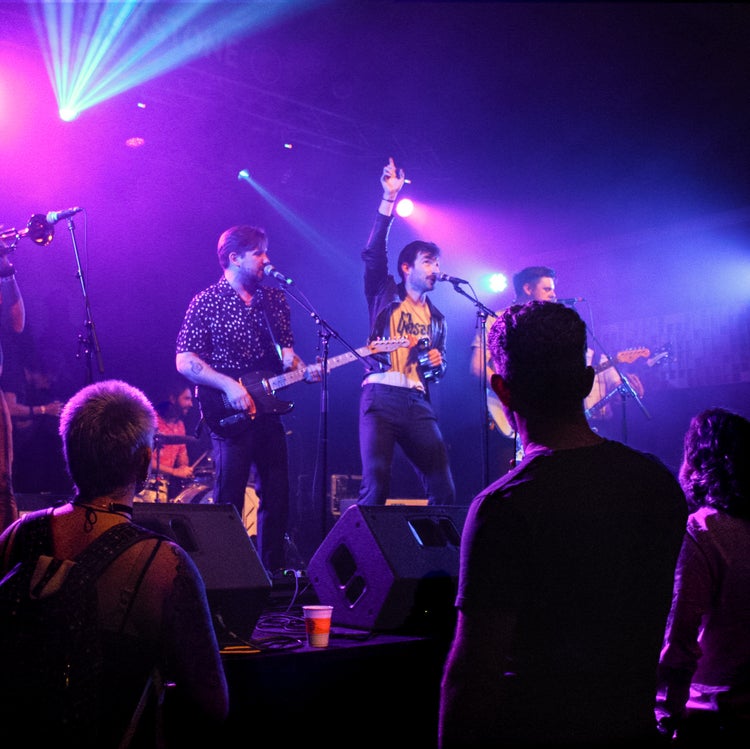 (Red Rum Club pictured above.)
The three members agreed that the UK based band has definitely changed the course of their career. They are grateful for all the knowledge Red Rum Club has shared with them, from things that they should do, to things they definitely shouldn't do. It's nice to have seasoned veterans that will share their life lessons because they genuinely want you to succeed.
Q: So we have insider info that you might be working on something with Moontower. Maybe a show... maybe a tour..?
Charlie: yeah! oh my goodness yeah! actually-
Tommy: We just followed them, they were recommended to us.
Charlie: A fan recommended them to us.
Liz: *whispering* "Her name is Aubrey"
Charlie: "yes! we love Aubrey! wait- do you know her?"
Tommy: "shes from Colorado, yeah?"
Sofi: "she is! but yeah we she's our friend. we actually met her because of Moontower."
Holdfast couldn't say much on what's in the works other than that they have become big fans of the LA band.
Everyday we are reminded how integral the community built around bands is to the experience of their music, for themselves and for the fans. A big thank you to Charlie, Mikey, and Tommy for taking time out of their limited dinner time to chat with us and answer some questions. We had such a fun time and we would love to see them return to the bay!
Holdfast. Just released their single Everything Wrong. Go listen to it, add it to your commuting playlist, share it with your pilates instructor and with your therapist! Don't forget to follow @Holdfastbandco on Instagram and if you have gluten free suggestions send them Tommy's way (and to me, please. I like to eat too.)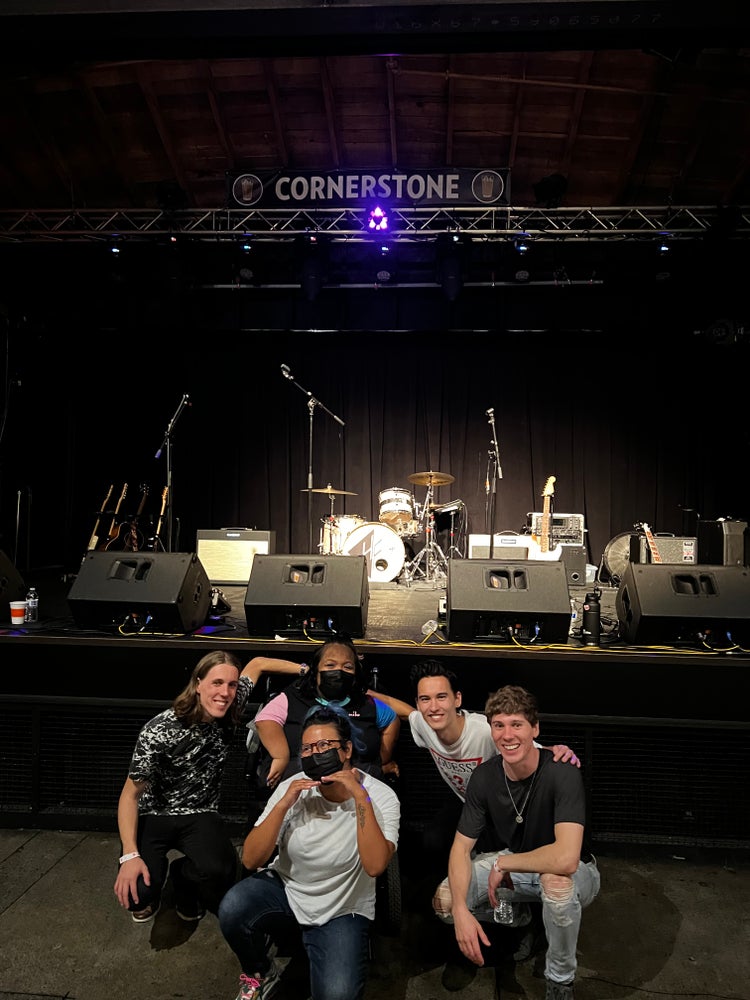 All of the photos used in this article were taken by Favorite Moments Photography with the exclusion of the initial cover photo taken by
Andy Riggs and the black and white taken by... someone's mom probably.