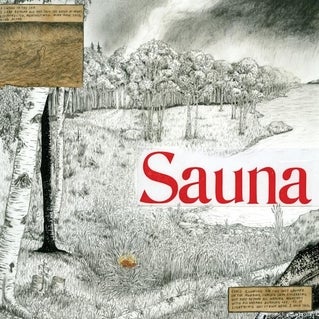 Sauna is thenewest in a progression of deeply existential, musically chimeric Mount Eerie records from Phil Elverum,who casts himself as the perennially detached outsider looking in—into his ownlife, in this case. Sauna manages to alchemize shitty winter weather with Elverum'sstarkly self-aware, feelings-on-the-sleeve narration. The title (and opening)track sets the tone for the record, as we find him (literally) looking out atthe winter landscape from inside a sauna while languidly pouring water on thefire. His motivation "to prove I don't exist/to show that I am beyond thisanimal form/and this lost mind" dovetails with droning organ and guitar swellsand the sound of rising steam, like a spirit rising only to evaporate into thinair.
After some post-sauna coffee in "Turmoil" we're invited on ajourney outside into the cold, strange and yet crisply beautiful winter worldof "Dragon", accompanied by sparse arrangements and gentle vocal harmonies thatseem to float on the icy breeze as an airplane passes overhead. Fittingly, this beauty is ephemeral, quicklycollapsing into the grinding Farfisa nazard of "Emptiness" and the fatalisticreflection that "we are two black holes in a vast night/in neutral rolling downa hill unoccupied." For a record built around a mind firmly fixed inself-imposed isolation, Elverum creates an incredibly diverse series ofvignettes in which to explore its boundaries, ranging from the mundane folk guitarobservations of "Pumpkin," the intensity of album highpoint "Spring," with itsangelic vocals and cavernous organ chords borrowing heavily from the minimalismof Philip Glass and John Adams, to the crunching, dark guitar riffs of album closer"Youth."
Sauna is acompelling and perfectly timed end-of-winter record that chalks up another sonic victory for PhilElverum's well-established post-Microphonescareer. It's a thoughtfully articulated picture of a world sensing the comingof a thaw without finding it, the reality of a mind frozen within itselfdespite the promise of the ever-changing world that surrounds it.