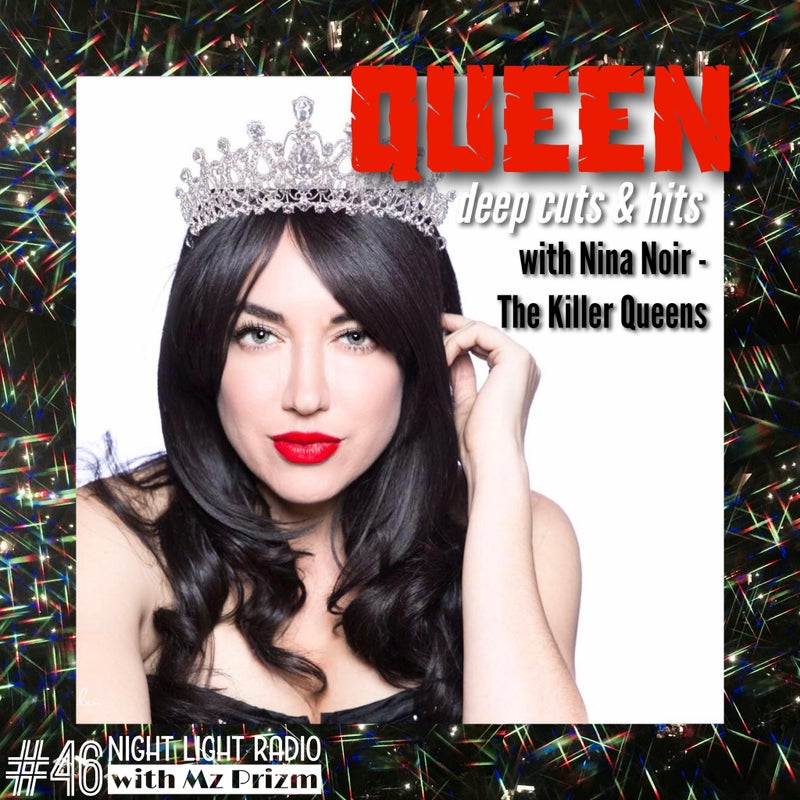 💋🎥🤩🎸🎶 Discover your new favorite QUEEN song thanks to "Frederica Mercury" aka Nina Noir of the world's only all-women QUEEN tribute band "The Killer Queens" who takes us on a journey through her favorite Queen tracks and tells us tales of her adventures around the premiere of Bohemian Rhapsody, including a mindblowing moment with Brian May (Queen guitarist) and Gwilym Lee (actor who played Brian). 🤩 The Killer Queens started right here in the SF Bay Area seven years ago. Catch Nina live onstage with The Killer Queens in Oakland on Dec. 7 at the New Parrish!
🔥 Whether you are a long-time Queen fan, or if this is your first time, you're in for a rockin' ride...and we'll even hear a song from The Killer Queens!
🎶 Follow Nina on Instagram @heyninanoir, and @thekillerqueens, and don't miss the Killer Queens show in Oakland on Dec. 7 at The New Parish! www.thekillerqueens.com 💋
For more Queen vibes, check out the album "Off To The Races" by Jukebox the Ghost.
You also may enjoy episode 43 of Night Light Radio, PRIDE in TRANSylvania Part II, featuring tracks from Rocky Horror Picture Show and much more.
Playlist
Click buy to purchase tracks from this playlist and BFF.fm will receive a small percentage. You can also support BFF.fm with qualifying purchases made via Amazon Smile. Every bit helps!
Radio Ga Ga - Remastered by Queen on

The Works

(Hollywood Records, Inc.)

$ Buy

Break

Killer Queen by Queen on

Bohemian Rhapsody

(Queen Productions under license to Universal)

$ Buy

Break

Spread Your Wings by Queen on

News of the World (Deluxe Remastered Version)

(Hollywood Records, Inc.)

$ Buy

It's Late by Queen on

News of the World (Deluxe Remastered Version)

(Hollywood Records, Inc.)

$ Buy

My Melancholy Blues by Queen on

News of the World (Deluxe Remastered Version)

(Hollywood Records, Inc.)

$ Buy

Tie Your Mother Down by Queen on

A Day At The Races

(Hollywood Records, Inc.)

$ Buy

Teo Torriate (Let Us Cling Together) - Remastered 2011 by Queen on

A Day At The Races

(Hollywood Records, Inc. )

$ Buy

Good Old-Fashioned Lover Boy by Queen on

A Day At The Races

(Hollywood Records, Inc.)

$ Buy

The Millionaire Waltz - Remastered 2011 by Queen on

A Day At The Races

(Hollywood Records, Inc.)

$ Buy

You Take My Breath Away - Remastered 2011 by Queen on

A Day At The Races

(Hollywood Records, Inc.)

$ Buy

Dreamers Ball by Jazz on

Jazz

(Hollywood Records, Inc.)

$ Buy

Bicycle Race by Queen on

Jazz

(Hollywood Records, Inc.)

$ Buy

Dead On Time by Queen on

Jazz

(Hollywood Records, Inc.)

$ Buy

Fat Bottomed Girls by Queen on

Jazz

(Hollywood Records, Inc.)

$ Buy

Play The Game by Queen on

The Game

(Hollywood Records, Inc.)

$ Buy

Dragon Attack by Queen on

The Game

(Hollywood Records, Inc.)

$ Buy

Another One Bites The Dust by Queen on

The Game

(Hollywood Records, Inc.)

$ Buy

Crazy Little Thing Called Love by Queen on

The Game

(Hollywood Records, Inc.)

$ Buy

Save Me by Queen on

The Game

(Hollywood Records, Inc.)

$ Buy

Body Language by Queen on

Hot Space

(Hollywood Records, Inc.)

$ Buy

Under Pressure by Queen, David Bowie on

Hot Space

(Hollywood Records, Inc.)

$ Buy

I Want To Break Free by Killer Queens

(-)

$ Buy

Hammer To Fall by Queen on

The Works

(Hollywood Records, Inc.)

$ Buy

One Vision by Queen on

A Kind Of Magic

(Hollywood Records, Inc.)

$ Buy

Who Wants To Live Forever by Queen on

A Kind Of Magic

(Hollywood Records, Inc.)

$ Buy

Princes Of The Universe by Queen on

A Kind Of Magic

(Hollywood Records, Inc.)

$ Buy