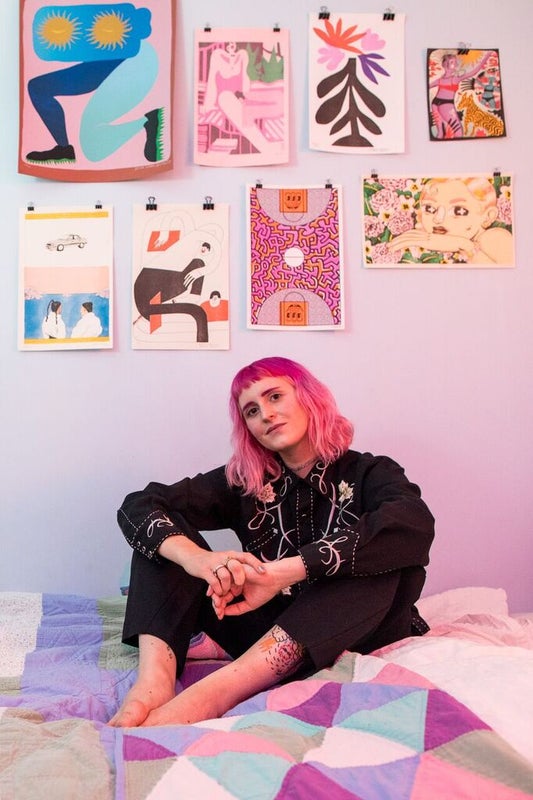 Bernal Heights, August 6th, 2018, Photo by Jaime Borschuk | http://jaimeborschuk.photo/
Recommended Episodes...
EP 5: Ethan Cantil-Voorhees and Mackenzie Nicholson of Organ House (OH!), discuss enthusiastic consent, navigating your first play party, orgies and dating in the poly community"
EP 3: Tattooer and illustrator, Jess Koala (@jess_koala_tattoo), to discuss her art, breaking through as a queer artist in the industry, and the riot grrrl movement
EP 2: Comedian, Connor Marshall, discusses his journey to stardom, his comic "Dr. Fart," and an on-air first date
A most serendipitous show, C00L WORLD recently emerged in the San Francisco radio community, highlighting tunes each Monday in the realm of bedroom pop, lo-fi, garage rock, shoegaze, art punk, electronic, and dream pop. But most importantly, the show acts as a creative cove for special guests every week from perspectives in all different walks of Art. Although a debut radio host, Kelsey Styles has a surprisingly natural on-air presence. She's on a quest for discovery, to make a sonic bricolage that combines music on the soft + loud range, interviews featuring local folks who are musicians, part of the Queer community, People of Color, comedians, life coaches, tattoo artists, physicists, sexual health advocates, and topics including STEM research, Queer visibility, video games, astrology, and trash TV. The theme of each show is far from stuffed inside a box, but the general sequential order starts the first hour with music fluxing between different genres, followed with forty(ish) minutes of talk time with guests, closing with 20(ish) minutes of the guest playing their favorite tunes.
What's coolest about this show is its inclusivity, making space for a plethora of voices to be heard— especially underrepresented ones. For example, notable guest, tattoo artist/illustrator Jess Koala shares the journey of uncovering her Queer identity while growing up in a small conservative area, saying, "I was always searching for somebody like me. I didn't have any examples." Koala recalls the first feelings of not being alone when Ellen DeGeneres came out, followed by going to her first Le Tigre show, "The idea that there were people out there like me, making Art for people like me absolutely changed my life. Knowing that there are people out there for you is everything." This testimony so beautifully captures the liberating spirit of the Queer community, and a spirit that C00L WORLD embodies. The show emphasizes a socio-cultural interrelatedness between the self and others, and allows for an important dialogue that encourages us to embrace each other's stories, which is perhaps the most fundamental component in making an Arts community meaningful.
Kelsey meets her guests in organically unfolding encounters in the fantastic ephemeral paths that cross one another within San Francisco. Instead of meeting someone, small talking, then departing from an exchange, Kelsey takes it to the next level and invites a new acquaintance (who's more than likely to become a friend) onto her radio show to explore more about their life. Her approach to radio holds a willingness to fly by the seat of her britches and embark upon an adventure.
Events leading up to C00L WORLD…Kelsey was born and raised in Destin, Florida, which is around the northern Panhandle region, i.e. "Floribama." She recalls that one of the biggest impacts growing up was the value her household placed on cinema. Every night after dinner, her family would watch a new movie (mostly classics) which began her fascination with set and costume design. She had a rad round table of familial influences. Her mother would take her to classic vintage shops, her father got her into Sci-Fi, and an older brother that introduced her to punk rock and avant garde culture once she entered high school.
She went to Florida State University where she majored in Information Technology and Communications, with a minor in Film Studies. She spent much of her college years working in graphic design internships and at an on-campus music venue called "Club Downunder." This venue was where she developed a bit of her subsequent DJ wings. She became ingrained in more music culture when promoting shows for musicians like Ty Segall, Shannon and the Clams, Vince Staples, Princess Nokia, Sylvan Esso among other performances by comedians, poets, and various up and coming artists. After graduation, she wasn't too heartbroken about leaving the Florida nest for San Francisco to work at a small advertising agency as a Junior Art Director.
And here we are today… Miz Styles is not only a hospitable radio host, but also a cool host at her very own abode. She let us entreat upon her cozy, feng shui-filled bedroom— her vision of an "i-D meets Petra Collins" affect, where we learned some more fun deets about her on and off the air...
________________________________________________________

How long have you been a DJ, and how long have you DJ'd at BFF.fm?
KS: This is my first DJ gig!
Who are your favorite musicians, or other artists at the moment?
KS: Yorgos Lanthimos is currently my favorite artist/filmmaker. Musicians include Field Medic, who's my all-time favorite, The Garden, Parquet Courts, and Porches. I'm a fan of local live music, too— for the first year and a half I lived in SF, I would go to two or three shows a week!
What are your obsessions?
KS: Arcades- especially pinball, private karaoke rooms, vegan food festivals, cheesy Americana artifacts like the Santa Cruz Beach Boardwalk, and cheap motels. Also I'm a huge film enthusiast and hit up indie showings at the Roxie Theatre/Oddball Films. Adventures in general.
What weird talent do you have?
KS: I'm a Gemini, so I'm good at figuring out what makes people unravel. I have a knack for creating atmospheres, mood lighting (case and point in our photo shoot of the interview*) that make people feel very relaxed and in tune with their self.
What was the last film you watched? What are your favorite films?
KS: I just watched BlackKklansman. As for favorites, I love d-grade films as well as blockbusters and indies. I always encourage people to watch classic cinema. The cinematography and shot design in earlier musicals are evolutionary. Some of my biggest recommendations are The Lodger (silent film by Hitchcock), Seven Brides for Seven Brothers, Casino Royale (1967) , The Flower Drum Song, mumblecore films- e.g. films by the Duplass Brothers, Good Time, Belladonna of Sadness, Dogtooth, and other films by auteurs like Wes Anderson, Paul Thomas Anderson, and Miranda July.
When did something start out badly for you but in the end, it was great?
KS: I've had a period of unemployment. Leading up to it started with a PTSD episode which triggered a series of issues that ultimately caused me to leave work. But the silver lining is that it forced me to go on medication and to work more on creative projects. I realized that the things I enjoyed about life were once career driven, but turned into being moment driven. I have a better sense of my friends, community, home, and am now putting those pieces together in a puzzle. Having this time to recenter myself and figure out what I want to do with my life is a process of discovering what that is, using platforms like a radio show helps materialize that goal.
How is BFF.fm most personally valuable/purposeful for the community?
KS: The mind blowing part is that I never thought I could do something like this….Being a postgraduate graphic designer I went straight into the traditional advertising space, which left me feeling uncomfortable and exhausted. The corporate pursuit didn't match my creative pursuit, but on BFF.fm I am instilling my voice in a medium, interviewing people, curating music that has intention behind it, it's not just random. All of this makes me excited for the week. The radio show is an opportunity to reconnect with people and to start new friendships.
---
The charm of the show is Kelsey's endearing capacity to embrace curiosity. Believing "you gotta be kind to be cool", this Pinball-Wizard-Vegan-Film-Buff-Adventure-Seeking Gemini knows how to harmonize with any and every cool human who floats through her life and brings this talent to the microphone, amplifying others' voices, and nourishing friendships. In a time when it's easy to feel rage and distrust in humanity, Kelsey reassures us there is in fact a C00L WORLD to be experienced, and we can experience it each week with a different, cool perspective every Monday from 4-6pm.
What can you eagerly await in future episodes?
"Playland-Not-at-the-Beach"-- a museum in El Cerrito that's closing its doors after Labor Day...Kelsey's trying to reel the founder in to talk about its history.
Follow Kelsey