BFF.fm Listening Party Recap: Jake Mann Deconstructs Outta Mind A While

By
Kerri O'Malley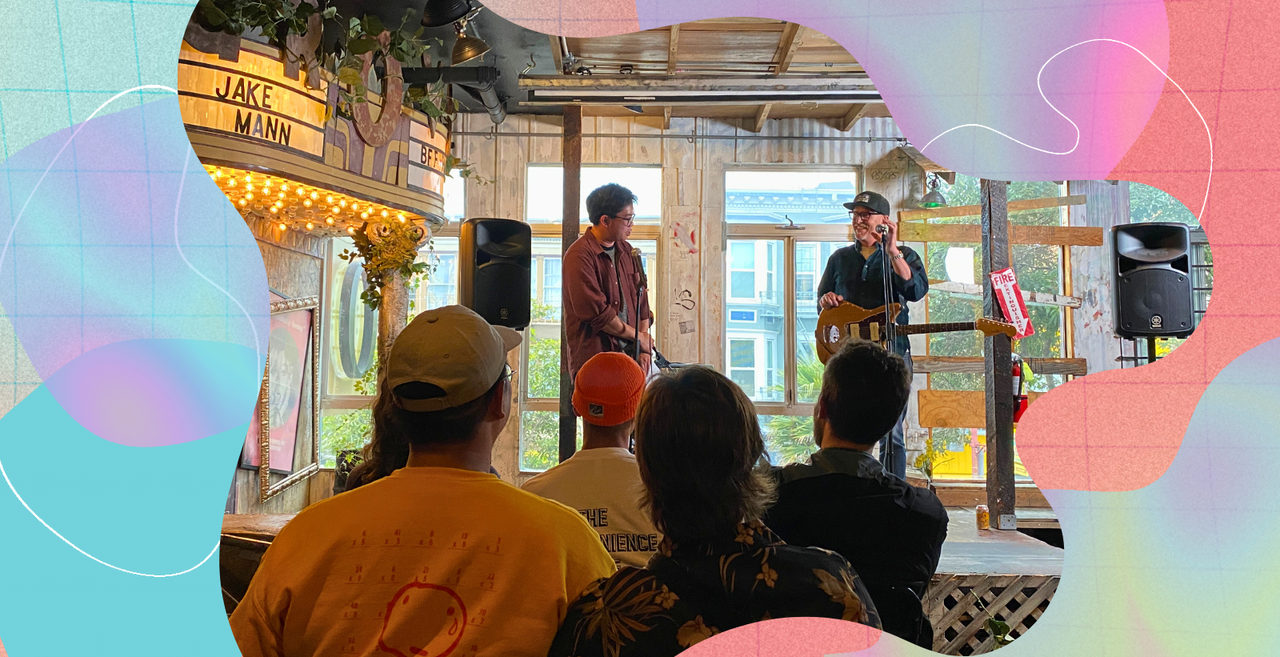 On July 18, BFF.fm hosted our second listening party with Santa Cruz musician Jake Mann. Jake played songs from his new record, Outta Mind A While, echoing haunting guitar riffs into the foggy tendrils of the mellow evening. BFF.fm DJ Swirving led the conversation with Jake about the process and stories behind the new songs…and growing apples (Jake's an apple farmer by day).
"I really enjoy recording," Jake says of his process. "I think I started trying to write songs when I was a kid just to have something to record. In my mind, they really exist together. As tortuous as it can be, it's fun to be shaping sound yourself. The things that jump out to me a lot are things that don't sound like they were recorded in a professional studio, like Pavement's Crooked Rain or any record that sounds like you're standing in front of a band. It sounds really immediate and unpolished, home crafted or unconventional. So that's what I try to do myself."
Discover the inspiration behind individual tracks from Outta Mind A While:
"Sliding to the Clouds"
"The original guitar parts for that song started in 2015. I called it 'Autumn Sky Stylings' for a long time. There's this melancholy feel to it. It finally occurred to me last year, when I was trying to finish this tune, that it pinpointed this moment – at least as far as the feeling – of skimboarding when I was 14 at the beach in the fall. You'd get down there after school, and there's a limited amount of time before it gets dark in October; it's beautiful but you've just got a few runs. When I realized that's where this feeling started, it became a focus point for the writing, and then it wrote pretty quickly. This little spark hit."
"I'll Show You the Door"
"There's a station down on the peninsula called KKUP – it's a good, long-running independent radio station out of Cupertino/San Jose that I've been listening to a lot. There's this guy Mr. Mustard who I listen to a lot at home, and I've spent some time taping it and making greatest hits from his show – a lot of psychedelic songs – so this song started forming because I wanted to write a sort of 60s, psychedelic journey song."
"Wishing Well"
"In my head, it's kind of a series of California-dream-falling-apart songs that I've been writing for year. They're basically spawned by driving around or riding bikes around California and seeing the state of things; it's a recurring theme. There's a lot of emotions. It keeps coming up."
"Top of the Sun"
"One little note about that song: I stole a loop from Spoon while I was recording that, from 'The Mystery Zone.' I was recording over that, and in the end, it was too obvious to me, like you can't escape Jim Eno's drumming, so I had a session guy in LA who was able to lay down some stuff pretty quickly (to replace it). I left one hit from the snare drum at the end of the chorus, you can still hear it. Recording this, it started during the depth of the pandemic, so we weren't really working with people in studios at the time. I used drum loops of my own drumming and loops from a couple of records ago and was able to make those beats and change tempos and stuff to work with and fill them out from there."
DJ Swirving: Now that you've put out this record, looking forward, what's next? Do you have other songs cooking?
"I feel like some new doors opened working on these. In the past, my songwriting [process] had been to have some ideas, write them in a journal, and then shove them with some music, and it's turned out…okay. This time…I had sort of an 'aha' moment. A couple of things…Aimee Mann was talking to Mark Maron about how she writes songs, and she just sort of sits with a melody and a cadence and her guitar and encourages the songs to come out of that. What you end up with is something that's hopefully a little more unified between the lyrics and the music. I was reading Jeff Tweedy's biography, too – he's since written a book about songwriting, but there's a chapter in his bio where he talks about mumble lyrics, which is where you've got your music going and you just sort of go with the cadence and kind of say words and kind of not and just let it go. Then later you mix that down really low in the mix and listen back to what you're saying, and you write that down. You're using your own impulse and you hear it differently later. A couple of the songs have that mumble lyric going on, and I followed the cadence more and it took a little longer writing the lyrics this time. I feel like it unlocked a bit of my songwriting process and I want to keep going [in that direction]."
---
Join our next listening party on November 20! We're welcoming Bay Area musician Oddity onto our studio stage to perform and discuss their latest record, Oddisea, Pt. 3, with BFF.fm DJ Lead Teddy. Listening begins at 7pm, doors open at 6:30pm. Space is limited, so grab your tickets now.