Five bands to give your money to during this apocalyptic time

By
Space Abuela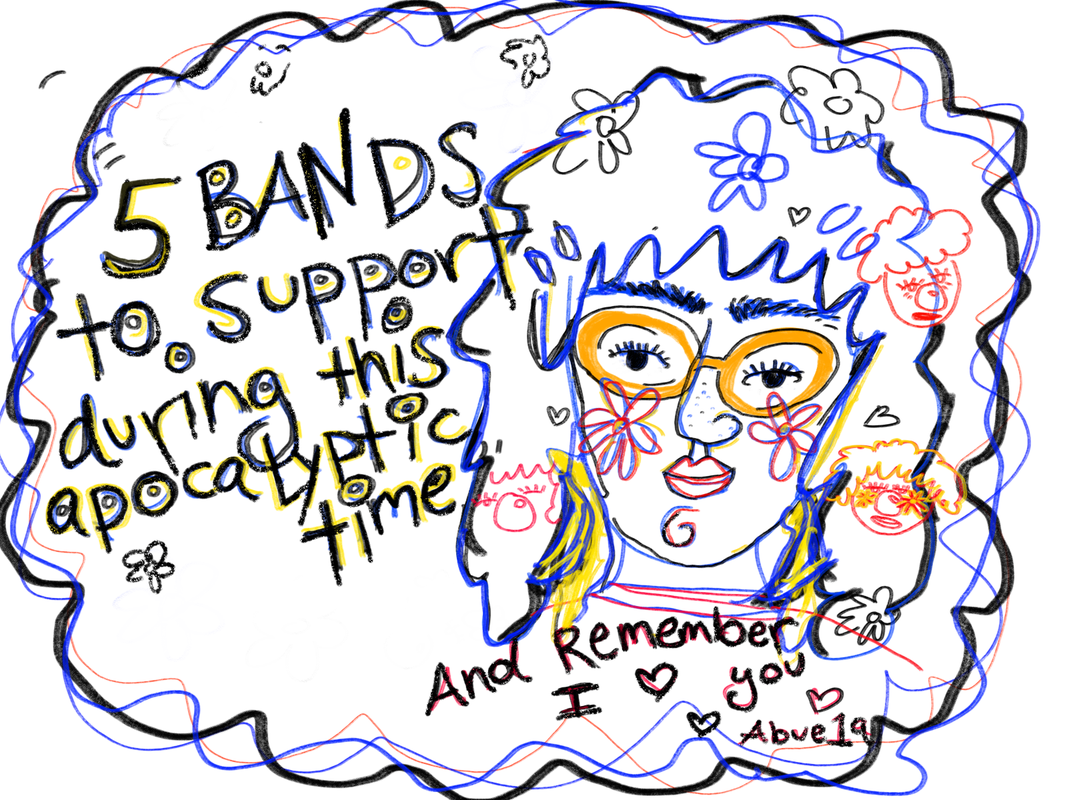 The past couple of weeks have led to illness, death, and paranoia. Events are getting canceled in every city, people are locking themselves in their room in fear of getting sick or already being sick and getting someone more physically fragile sick. Whole tours are being canceled. Venues and bars are temporarily shut down. For those of us in music and events, we are scared of what this means for our future. For people that work at venues and in events, people like me, our regular income is gone and for bands who called out of their jobs for weeks or months or even quit their job to go on a tour that is now canceled... are left with no income at all.
I haven't left the house in 4 days, and I'm likely to not leave the house for the next couple of weeks. Maybe to pick up medication or with a mask on and my pockets full of hand sanitizer. So with this time and this pent up anxiety, I am here to tell you some bands to give your money to. I'm sticking to five, because I don't want to overwhelm myself or you. Hopefully, this will be the only post and coronavirus is wiped off the planet the day after I send this off, but as of now, that seems doubtful so as of now this is only one of many posts about bands you should give your money to.
A lot of these will be bands I've worked with before at BFF.FM's Besties Bash or other events, who I will write about again, and who I will never stop supporting.
First off, recently Sour Widows released their self-titled ep and were off to tour in celebration. Their tour ended shortly after it started.
Give them a listen, give them your money.
Torrey and The Leave Me Alones, another two bands who have played our Bestie's Bash recently released cassettes for their previously released albums. These two bands are beyond talented and beyond supportive, so let's support them right back.
Samplelov has never played a Besties Bash, I am planning on fixing that eventually, but they did play a BFF.FM MUSH show at Jack London Square last summer, and I have booked them at my other job (The Laundry). This March she released a new album. I've played some of the songs on Abuela's Pantry but now I am here to tell you to buy it, now.
A lot of people forget that Ezra Furman lives in the Bay Area, ever since she has become a sensation in the UK we don't talk often about how she's called the Bay one of her homes for years. You may know her music and face from Netflix's Sex Education but before that, she was everything every Bay Area music writer could talk about. She had to cancel the rest of her tour but you can still support her by buying her music or rewatching Sex Education just to tweet about it.
For now, this is all I will write. Support local artists, indie artists, smaller DIY artists. I hope I don't have to tell you 5 more bands that are at a loss because of what we cannot control but I probably will. Give the guilt you have for buying the last of the toilet paper away, by supporting those that need help right now.
Email me at erika@bff.fm
Vemno me, tweet me, follow me on Instagram : @abue1a