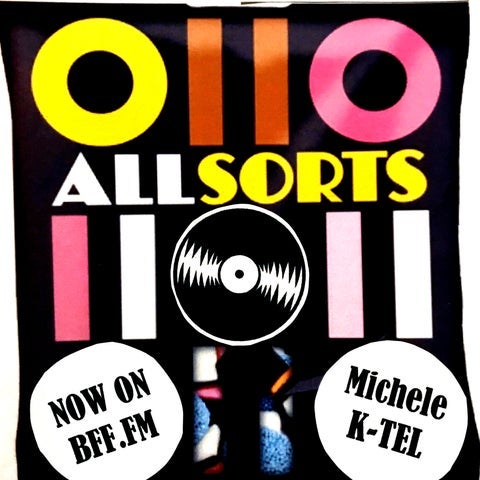 ALLSORTS of top notch sounds of 2021. Full hit parade audio archived here!

#1 Low "I Can Wait" HEY WHAT (Sub Pop)

The intentional overmodulation reverberating throughout this album cranks ALL the feels up to 11, replicating the discord over the last few years while at the same time offering this sweet noise as a reassuring shoulder to lean on.

#2 Mae Powell "Scratch n Sniff" Both Ways Brighter (Park The Van) Allyship indie rock from SF wrapped up in catchy hooks & melodies w/ a sly sense of humor. Mae Powell you ARE Magick.

#3 Little Simz "I Love You, I Hate You " Sometimes I Might Be Introvert (AGE 101) British-Nigerian hip-hop expert turns ambivert w/ a microphone.

#4 La Luz "I Won't Hesitate" La Luz (Hardly Art) Dreamy. Just Dreamy.

#5 Damon Locks - Black Monument Ensemble "Keep Your Mind Free" NOW (International Anthem) Recorded safely outside in a garden with brass+woodwind orchestra and vocal choir in the midst of a COVID + social unrest summertime.

#06 Fake Fruit "No Mutuals" Fake Fruit (Rocks In Your Head) Best Oaklandish debut of 2021! Can't wait to hear more from this post-punk smartypants trio.

#07 Orchestre Tout Puissant Marcel Duchamp "We Can Can We" We're OK. But We're Lost Anyway (Les Disque Bongo Joe) This 12-piece Swiss orchestra that combines ALLSORTS of genres threaded w/ welcome pep talk lyricism and a dash of DADAism.

#08 ONIPA "Porridge" Tapes of Utopia (Boomerang) A cassette (and digital) release in homage to the magic of mix tapes. This one combining Afrobeat, Highlife & Soukous with Afrofuturistic rap & electronics.

#09 The Notwist "Al Sur (feat. Juana Molina)" Vertigo Days (Morr Music) The only entry that also landed on my Best of list LAST year due to an early EP of the single in 2020 with full official release date in April 2021. A cross-cultural collaboration between German indie-electronics and ALLSORTS of guest stars from Argentina (Juana Molina) + Chicago (Ben LaMar Gay & Angel Bat Dawid) + Japan (Tenniscoats, Zayaendo).

#10 Gustaf "Mine" Audio Drag For Ego Slobs (Royal Mountain) RIGHT NOW post-punk loaded up with sneering lady power energy.

#11 The Chills "Safe And Sound" Scatterbrain (Fire!) Martin Phillips (and a bunch of new bandmates) is back with reliable calming kiwi-pop.

#12 Juçara Marçal "Delta Estácio Blues" Delta Estácio Blues (Mais Um) Fierce Metá Metá vocalist with a stellar solo album incorporating her original Brazilian fused punk+noise+tropical sounds.

#13 Marinero "Through the Fog" Hella Love (Hardly Art) Jess Sylvester and his big hearted melancholy musical farewell to SF (complete with music videos starring Karla the Fog & La Victoria bakery in The Mission).

#14 Sons Of Kemet "To Never Forget The Source" Black To The Future (Impulse!) UK modern jazz collective of saxophone, double drums and tuba. Yes!

#15 Bachelor "Doomin' Sun" Doomin' Sun (Polyvinyl) Sweet and wistful Jay Som & Palehound all-star duo. Best sunset live act at this year's "safe and sound" streaming Hardly Strictly Bluegrass festival.

#16 Dummy "Final Weapon" Mandatory Enjoyment (Trouble In Mind) We can always use more bands influenced by The Velvet Underground and Cluster.

#17 Mega Bog "The Weight of the Earth, on Paper" Life, and Another (Paradise of Bachelors) A self-described "song-dribbler" --> I could listen to Erin Birgy dribble on in different directions all day.

#18 The Garrys "In the Dawn" Get Thee to a Nunnery (Grey) It's fun to say "Sister surf rock trio from Saskatoon" but the Garrys are way more than a family novelty act. Backed up with perfect vocal harmonies and edgy expert instrumentation, these sisters rock.

#19 Sun Ra Arkestra "Swirling" Swirling (Strut) Hats off to 97-year-old bandleader Marshall Allen for keeping the legend of the Sun Ra Arkestra traveling through outer space by penning new music and rearranging Sun Ra classics with new cosmic energy.

#20 Sarah Louise "Your Dreams" Earth Bow (self-released) A most original ode to Mama Earth that includes all the essentials like owls, frogs & mossy slopes.

#21 Arooj Aftab "Suroor" Vulture Prince (New Amsterdam) Why meditate when you can sail away to these ambient Hindustani instrumentations instead.

#22 Tele Novella "Words That Stay" Merlynn Belle (Kill Rock Stars) The best Texas indie-twang of 2021.

#23 Mdou Moctar "Ya Habibti" Afrique Victime (Matador) Tuareg songwriter and guitarist who also gave us the best livestream concert from the desert of Niger.

#24 José González "Valle Local" Local Valley (Mute) The guitar, that voice, this time singing in three languages.

#25 The Dodos "Eyes Open" Grizzly Peak (Polyvinyl) This is the eighth release from these Bay Area heroes. Please don't let it be the last!

#26 Elsa Hewitt "Inhaler" LUPA (Tompkins Square) I don't know much about Elsa aside from she is a DJ based in London and this record is released on a local SF label, but I kept returning to her bedroom ambient electronics when I needed to rest my brain.

#27 Eleventh Dream Day "A Case to Carry On" Since Grazed (Comedy Minus One) Not sure how difficult it is for members of a band from the 80s to get back together despite divorce, time & distance but very glad it happened. This song!

#28 Shannon Lay "Rare to Wake" Geist (Sub Pop) A gem of an EP from this SoCal voice-fulla-honey songstress.

#29 maarja nuut "a scene_merevees" hinged (self-released) Estonian violinist and composer who took the double meaning of the word "Hinged"to create a musicial connection between spirits of the past (in Estonian) and (in English) the element that hold us together. Another magic fusion of traditional folk music + electronics.

#30 David Lance Callahan "She's The King Of My Life" English Primitive I (Tiny Global Productions). Listening to this reminded me of how much I loved UK band the Wolfhounds, and how impressed I was that Mr. Callahan had reinvented himself as a "folk" singer full of the same fire of decades past.

#31 Rodrigo Amarante "Tango" Drama (Polyvinyl). Wasn't aware of this Brazilian composer of the "Narcos" soundtrack but now is firmly on my radar.

#32 The Reds, Pinks & Purples "A Kick in the Face (That's Life)" Uncommon Weather (Slumberland). Not only dreamy indie-pop from local Glenn Donaldson but best neighborhood album art architecture and song titles too (see "The Record Player and The Damage Done")

#33 Kidi Band "Go On" So Good (Earth Libraries) Named after a traditional Ghanaian drum, this LA group formed when they were all in college studying the same class on West African music. It's SO GOOD! : )

#34 Molly Linen "The Day Starts" Days Awake EP (Lost Map) Shrewsbury singer-songwriter with a charming voice now based in Glasgow.

#35 El Dragon Criollo "La Número Uno" Pase lo que pase (El Palmas) The project of Colombian producer, musician and singer Paulo Olarte Toro. This retro Casio keyboards + Champeta single is um, La Numero Uno.