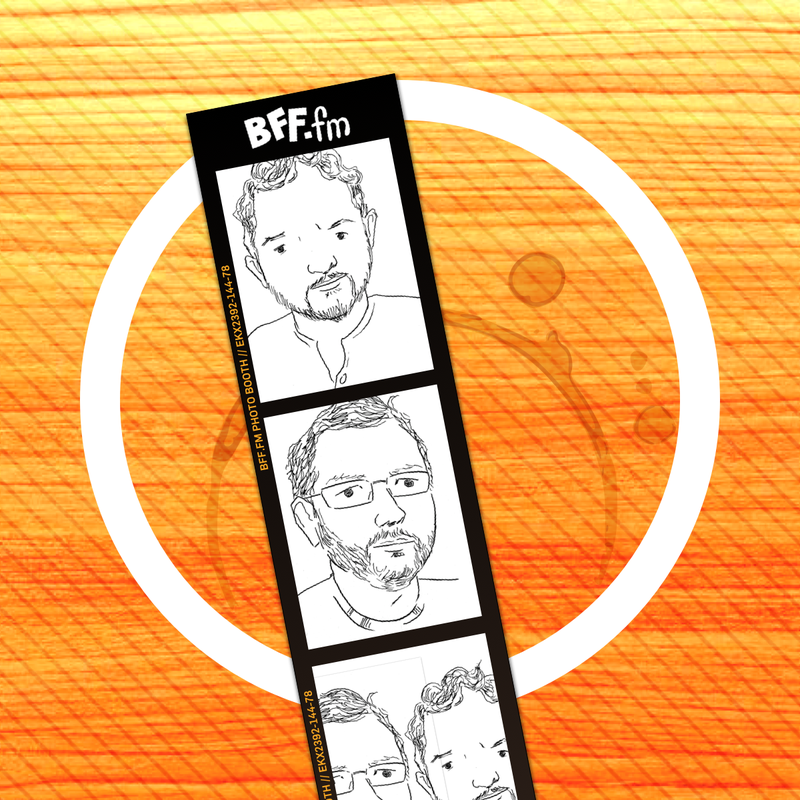 This time we really mean it. After 227 shows, plus some reruns, this is the very last broadcast of Eclectic Kettle. Recorded live at the end of November, Simon and Ben are in the studio together along with a great many returning cast members and friends. Join us as we recount our favourite Kettle moments, play some of our favourite tracks and acts from the history of the show, reflect on this whole thing, and encourage you to support BFF.fm in our 2018 Fundraiser!
This one is also going out on Christmas Day, so welcome to the first and last Eclectic Kettle Holiday Special, I suppose? Feel free to shake some sleigh bells over the recording. And this show marks the 5th Anniversary of Eclectic Kettle (which we think would've been December 20th.) 5 years! Who'd ever have thought. Thank you to everyone who supported the show, listened, came on as a guest, Tweeted some snark… Simon and I are incredibly grateful to all our friends and family and BFF.fm community who supported making the show.
Settle down in your favourite, snug festive spot by the fire. Have yourself an extra helping of Christmas Pudding. And please, once more with feeling, bask in the chaotic joy of Eclectic Kettle number 228 of 228. The music in this episode is really great, the banter is pretty good. The randos who we put on the air with us are tremendously entertaining too. We only blow out the levels some of the time. It meant a lot to record this, and even editing it for rebroadcast brought back the feelings. I hope you enjoy listening to it again. We love you. Good night.
Playlist
Click buy to purchase tracks from this playlist and BFF.fm will receive a small percentage. You can also support BFF.fm with qualifying purchases made via Amazon Smile. Every bit helps!
Sound and Vision by Beck

(Self Released)

$ Buy

Break

Weight by Mikal Cronin on

MCII

(Merge)

$ Buy

Toe Cutter - Thumb Buster by Thee Oh Sees on

Floating Coffin

(Castle Face)

$ Buy

Hit It and Quit It by Ty Segall on

Fudge Sandwich

(In The Red Records)

$ Buy

Break

Backwaters by Drenge on

Drenge

(Infectious)

$ Buy

Deep Pockets by Gaz Coombes on

World's Strongest Man

(Self Released)

$ Buy

Sad Suppers by Los Campesinos! on

Sick Scenes

(Wichita)

$ Buy

Break

Small Talk by Courtney Barnett on

Small Talk

(Marathon Artists)

$ Buy

Don't Swallow the Cup by The National on

Trouble Will Find Me

(4AD)

$ Buy

Ancient Water by Future Islands on

The Far Field

(4AD)

$ Buy

True Care by James Vincent McMorrow on

True Care

(Vagrant)

$ Buy

Break

The Underside of Power by Algiers on

The Underside of Power

(Matador)

$ Buy

Shame by Young Fathers on

White Men are Black Men Too

(Big Dada)

$ Buy

All My Friends by LCD Soundsystem on

Sound of Silver

(DFA)

$ Buy

Break

Burn It Down by Daughter on

Music From Before The Storm

(Glassnote)

$ Buy

Chasing Mirrors (Christian Löffler Remix) by Padre on

Chasing Mirrors

(Derelicht)

$ Buy

Breathe This Air by Jon Hopkins on

Immunity

(Domino)

$ Buy

Break

Be Right Back, Moving House (feat. Paul Smith) by Ghostpoet on

Shedding Skin

(Play It Again Sam)

$ Buy

Her Majesty by The Beatles on

Abbey Road

(Apple)

$ Buy