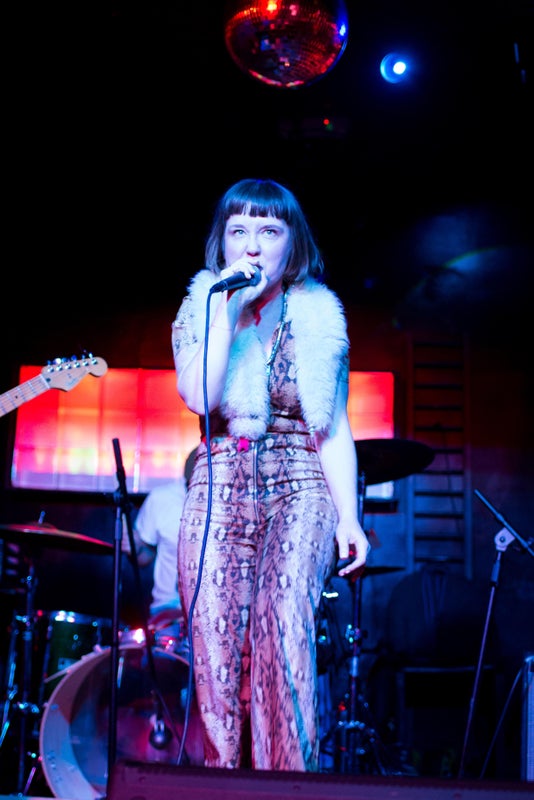 Tika Hall of Warp, photo by Beth Laberge, ig @bethlaberge.
Top 40 of 2018 Part 1!
My feelings:
1. WARP, "Cream of the Crop": The band pulverizes, Tika Hall's pronouncements are both allusive and Very Specific, and there's not a moment's waste. This is priceless, it's not valuable.
2. Madeline Kenney featuring Naytronix, "Still Learning": Oh just a quick deconstruction of pop music by two intrepid explorers of the form! (Carpark Records)
3. Free Paintings, "A Love That's Unconditional": Shoutout to the hostage in question and the people who stay outside and smoke cigarettes and never watch the bands.
4. Planet What, "Ludwig 67": A rock n roll classic out of Tulsa Oklahoma, it's so undeniable at each turn it's as if "Louie Louie" had four movements.
5. Kokomo Hum, "Heathers": Kokomo Hum put out two songs that are impossibly catchy, then I saw them at the Hemlock and the other three songs they played were also really good, that's my story.
6. Bobbi Rohs, "Unreachable": The most vulnerable and open emotional heights of 2018 were reached by Rohs across ITSJUSTTHELETTERB's seven tracks, "Unreachable" being the most operatically hitful of them. (textme)
7) Pllush, "Ortega": A day in your life, Bay Area. (Father/Daughter)
8) Marbled Eye, "Leisure": A ton of ideas packed onto a speeding car in 4th, 5th, and 6th gear. (Digital Regress)
9) Qing Qi, "#ybgtt": The incisive rapper drops a two minute manifesto.
10) Wax Idols, "Crashing": You know you're crashing hard when the sound of it could fill arenas on an 80-city tour in a world with any justice, celebrate that Wax Idols were this good. (Etruscan Gold)
11) Time Fraud, "Houston": That feeling when everything's so real and unreal at the same time.
12) Doncat, "Don't Step": A meticulously crafted tale of intrigue from a cinematic album.
13) Mae Powell, "Yellow Flower": Just deliriously romantic.
14) Marinero, "Late June": A daybreak anthem capturing the languid majesty of Pacific life.
15) James Wavey aka Alleyes Manifest, "Psych Bop": A baroque introduction gives way to psychedelic drum fills and an opening line you can live by.
16) K Skelton, "Leatherjacket": You ever think about everything? Somehow Skelton makes a life with "all my friends in other states/ and all my money to interest rates" a life worth doing.
17) Moon Daze's "Disco" is the Going Out song of the year.
18) Tony Molina, "Wrong Town": We all talk about where we live in the Bay Area, but it's also about who we run into, or don't. (Slumberland)
19) Blues Lawyer, "27th Street": Hard to pick just one from Guesswork, an album of concise and witty vignettes, but this one is good because when he says 27th street is littered with love letters and phone numbers, he's talking about yours. (Emotional Response)
20) AhMerAhSu, "Heartbreaker": Every bar and club please play this at 11pm and 1am every night, this is urgent transcendence on the dancefloor.
instagram: @iluvmondaysbfffm
twitter: @iluvmondaysWill
email: iluvmondaysBFFfm@gmail.com