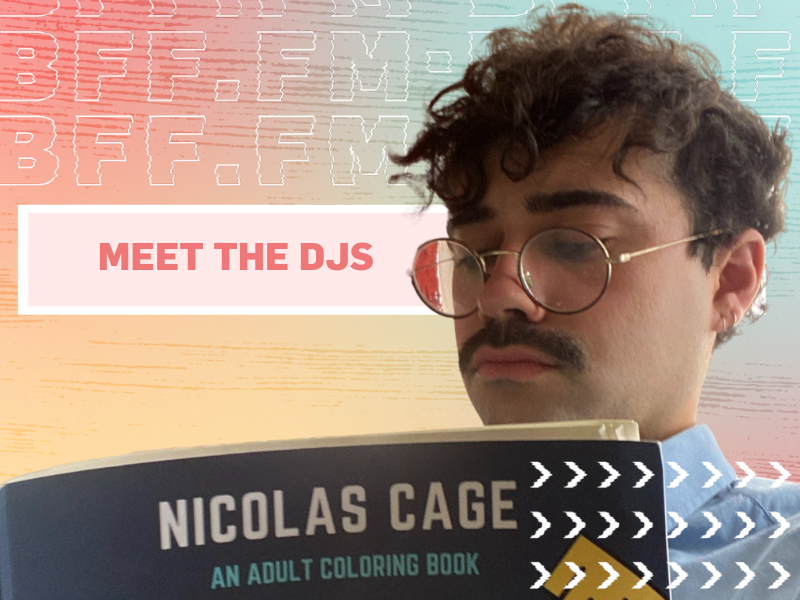 Airing Mondays at 11am, Hot Damn! is "an hour of jams that made me say 'Hot Damn!'" and for DJ Dork that means that "some of these tracks might be obscure one hit wonders I found while lurking the darkest depths of the interwebs, others might be oldies but goodies, and some others may be new releases that I've had on repeat since the day they dropped." But, they're all certainly jams, since listeners have literally reached out to say "hot damn!" in response. Okay, let's take a moment to get to know DJ Dork!
---
Sooooo...are you really a dork?
"Dork" comes from high school, my friends and I used to call each other dorks all the time, half as an insult and half as a term of endearment. Around that same time I started making some social media accounts (Twitter, Instagram, Spotify, etc) and used dork in my account names. Its stuck with me ever since.
OMG I'm so glad social media didn't exist when I was in high school, although, similarly, Cosmic Amanda was a nickname I got in college that became my DJ name then just sort of stuck. How did you go from "dork" to DJ Dork?
2016, sophomore year of college. One of my good friends Clay reached out to me about wanting to co-host a radio show on our college station WMCN. It was called Clay and Danny's Box of Chocolates and we played some music but mostly it was just us two being complete goofs on air. Mock interviews with Shrek, Leonardo DiCaprio, and the Mario brothers were the kind of things we would do. Quality stuff.
I had been missing being a DJ for a while and when I first moved to San Francisco I looked up SF community radio stations on the web and found BFF.fm.
Where are you from originally?
I was born and raised in Miami, Florida as the oldest of 3 brothers. I've been living in the Bay for close to 3 years now.
So, what was it about DJing and being on the radio that made you miss it when you didn't have it in your life?
I believe playing music for a community, by members of that same community helps build a bond between people and a place. I think BFF.fm does a great job of that: putting everyday San Franciscans on the air to share their love of music with their neighbors that want to listen.
There are certain emotions, aspirations, and memories that music, more than any other medium, is best equipped to capture and make resonate in its listeners. It's the times that I am out on a walk or jamming out in my room and that special song comes along that makes me think of a memory that's dear to me or inspires me to action that makes me want to share music with others through radio -- for the chance of making them feel something special.
Yeah! This makes a lot of sense to hear you describe feeling this way because your whole show is really about songs that give you a certain feeling...and whenever we hear from listeners the feedback is that they're sharing that exact feeling with you. It's so cool!
So on that note, (heyo) what music are you really into?
Artist-wise my current faves are Paradis, Joji, and 100 gecs, but my all-time favorite bands are Radiohead & Beach House.
I feel like DJs for better or worse are some of the most idiosyncratic people on the planet. So, I always ask: what are your idiosyncrasies?
I have a bad habit of talking outloud to myself, I just find that I process my thoughts easier this way but sometimes I catch myself exclaiming something in the middle of a busy street, people start looking at me and I feel really embarrassed!
What's been getting you through the pandemic?
Golden Gate Park, I have gone every single day since I moved to Haight-Ashbury. I don't know how I would have survived this pandemic without it.
I love running and throwing around a frisbee on a sunny day. I also like making cocktails and admiring plants.
I've definitely been more of an indoor person this past year. What media do you recommend for us pandemic couch potatoes?
I really like Barry, which is a show by Bill Hader that's available on HBO. Really funny but also suspenseful and it ends up tackling some serious topics in Hollywood too.
Wordplay was a really quirky documentary on competitive crossword puzzles competitors, I never do crossword puzzles but I still thought it was super fun!
I recently read My Brilliant Friend by Elena Ferrante and I loved that one, I think everyone can find something to relate to in the way Ferrante explores the childhood friendship of the two main characters.
Finally, give me your best pitch for BFF.fm: why should people support it?
People should listen to BFF.fm because we have the best DJs in the Bay and everyday we're sharing a ton of new and sick jams! If they like what they hear then they should also support BFF.fm so that we can do ever more for the local SF music scene and make this city an even better place for music makers and appreciators.
---
Thanks for chatting, DJ Dork! Check out his
BFF.fm DJ
profile, tune into Hot Damn! and if you find yourself exclaiming "hot damn!" when you listen, consider supporting the show with a donation!