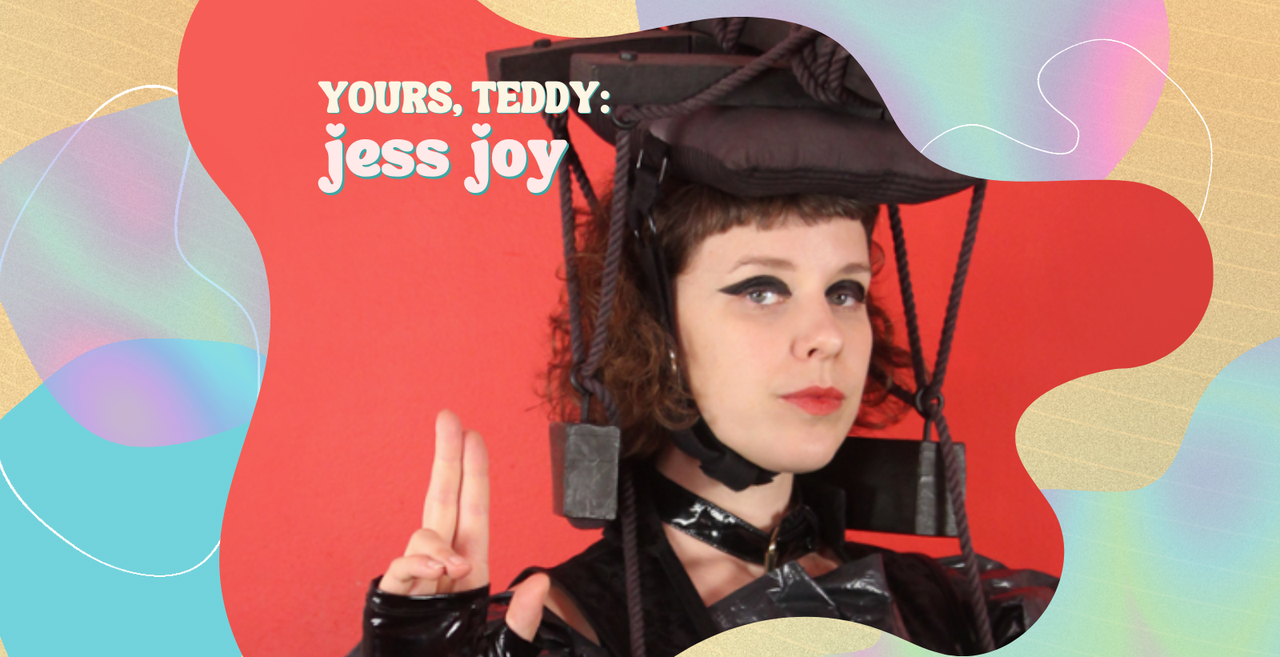 New Orleans-based artist jess joy recently dropped by Yours, Teddy to chat with DJ Lead Teddy about their new record, SOURCEHEIRESS, and upcoming West Coast tour, including a stop at the Knockout for the BFF.fm Super Schmackdown on November 2.
"[My last album] PATREEARCHY was a deep examination of my family roots, a recognition of this system, and where I belonged in it, and I think that SOURCEHEIRESS is a coming home. But to myself," says jess joy. "It's following this attempt to leave to go find a safe place, but meanwhile the only safe place is what I create within myself. My body is the homecoming, and I can't really find that anywhere else."
Listen to the whole interview here, and read on for a few tasty nuggets about this lush, beautiful album and its creation:
Lead Teddy: You just released a single, "my body," and the accompanying video from your new album. The video shows you attending your own funeral and being attended to by a group of friends and artists. That's a pretty big ritual, especially considering all that's happening in the world. How are you feeling after witnessing that funeral? How would you describe it?
jess joy: I was very influenced by Jodorowsky and the way that, in his films, he would ritualize real events for therapy, for processing, for sacredness, and so when I was making that video, it felt very important to be dead and to imagine what it would be like for my friends to come to my funeral and to continue their lives and to be celebrating, and what it means to let go. So, watching it, really, for me, it's joyful because those are some of my good friends making their own art, and it was such a collaborative experience. I already went through–I already died. So feeling good.
Sounds like it was a big release. That video was filmed in New Mexico. I'm curious about what your experience being out there in the desert was like, both filming that video and as it relates to the content in this album, which has to do a lot with growth and nourishment and watering and creating this lush, ecological environment.
I love New Mexico. I first went there when I was touring with my band and just fell in love with the desert and the spirit there. For this music video that we did, I was there on a woodworking apprenticeship in Carrizozo with this artist named Mike Lagg. I was spending three months traveling around. I spent a month in Poland and Berlin, thinking that I wanted to move to Berlin and be an artist, and then a month doing this woodworking apprenticeship, and then a month at the Earthships in Taos, learning how to build Earthships. I'm making a visual album for SOURCEHEIRESS–I'm just finishing it now–that catalogs those experiences of kind of wanting to leave America and or to figure out a new system to be outside this system. And it's reflected in the music, the search, the individuation, but then becoming back into interdependence and trying to imagine a new lifestyle within how we currently are in this system. But yeah, the desert to me, is a place of solace and reflection. You're there with yourself. The noises are small, you hear yourself, and so it's always been a very special place for me to go and make work.
When you say visual album, you're talking about a video that goes with each song or a short film that ties the whole thing together? Tell us more about that.
Oh, yeah, there's a video for each song and there are interludes and some spoken word poetry, so it's a little short film. It's like my version of "Lemonade" if Beyonce had no budget [laughs]. It's been a super DIY venture with just so many friends, collaborating and helping me and doing it together. Funnily enough, this album began a year before my last album was released, so it's been about six years. It was collaborative with me and Mike Byrne [of Smashing Pumpkins]. At a certain point, I decided I wanted to start making it a visual album. So, trying to get this music finished has been a dual process, working on the videos, you know, a year or two years after having written and recorded [the songs] is like, 'Okay, now I'm going to relive this in a different way.' And I'm so ready to let it go [laughs]. To share it, you know [laughs]. There's so many moments where I just go, 'Oh, I would love to quit right now.' But I think that these are, like, my children and I have to nurture them and bring them to where they need to be, and then after that, they're not mine anymore.
---
Listen to the whole interview for more about jess joy's collaborations with Mike Byrne and Greg Saunier, Earthships, and the New Orleans artist community. SOURCEHEIRESS will be released on November 10 on Joyful Noise Recordings. See jess joy at the BFF.fm Super Schmackdown at The Knockout on Thursday, November 2, playing with Cardboard People, Mayya, and Zhao. $10 NOTAFLOF. Show starts at 9pm. See you there!