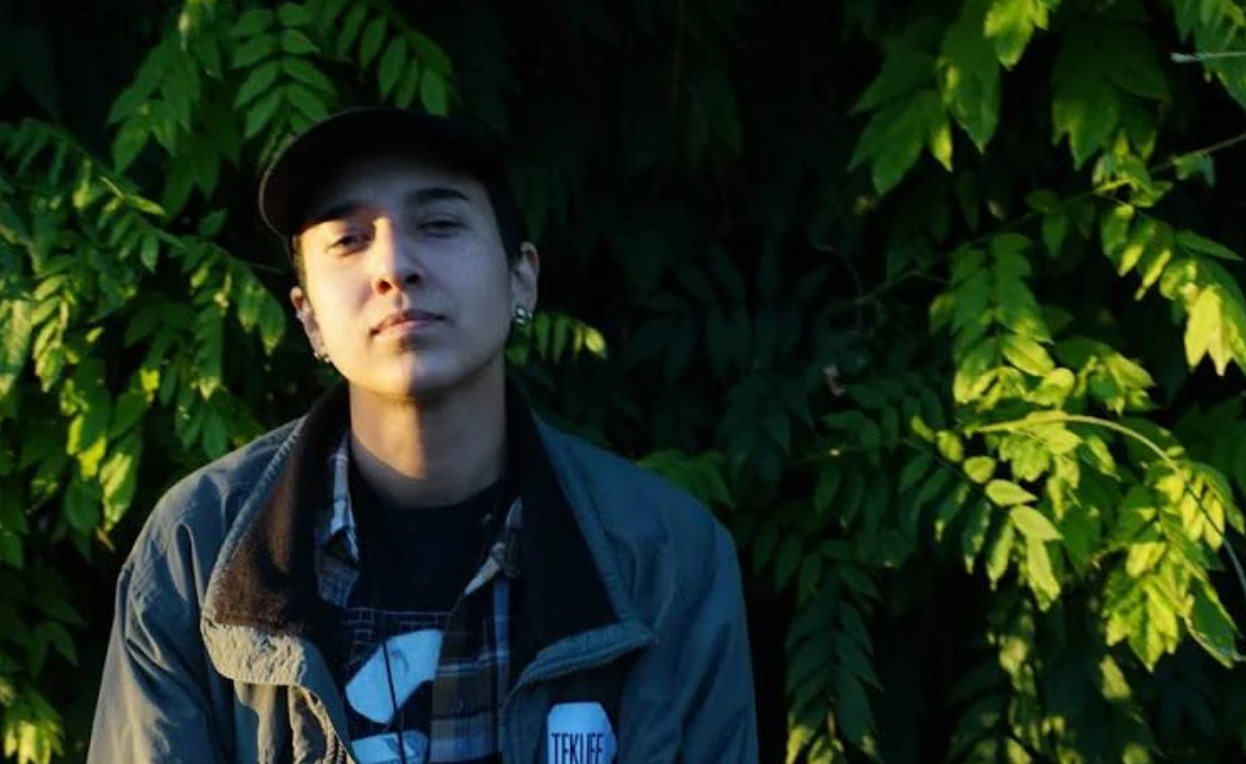 Velaluna was introduced to BFF.fm back in November by DJ Baqvas of Fractal Chambers, when they both DJd for The Rose Project.
Now, Velaluna has their own show on BFF.fm, Astral Transmissions, a live mix of a variety of electronic tunes from the astral realm, ranging from techno/house to bass to footwork & experimental beats to drum & bass & beyond.
---
Tell us about your background, because damn, you've accomplished a LOT already, and it feels like you're heading into an exciting time in your life...
I was born in Mexicali, B.C. & have called many places my home, but I grew up in the East Bay. I founded the radio station & TV station (which I also managed) at CSULA which is where I began DJing. It was at Cal State LA where I got my BA in TV, Film, & Media studies w/a minor in English. From there, I worked w/Sony Electronics, Sony Pictures Entertainment, & independently managing PR/Marketing & Distribution for the Sundance Film Festival native trans film "Drunktown's Finest." After that, I started my own production company, Moonlight Bend Productions & started DJing/producing music as "Velaluna." I moved back to the East Bay in 2018 & have been unfathomably blessed by my community & think of it as my true home.
Now that you've settled in the East Bay, what is your life like?
When I'm not DJing I enjoy filmmaking, going camping & hiking, wrapping crystals, helping people w/disabilities while working festivals (w/ Accessible Festivals), spoiling my huskies, producing music, & putting together our monthly dance party Moonlight Council w/ my fellow producers / DJ's Farsight & Mars Kasei.
There are so many festivals these days, and I think it's so cool that you're interested in helping with accessibility because it's something that's often overlooked. What else would you like to see change in festival culture?
When people at festivals throw trash on the floor & literally leave sometimes entire campsites/coolers/moop behind. It's really not that hard to pack in & pack out. It really bothers me when people disrespect the environment & sacred spaces.
You're still new to the BFF.fm community, but what do you think so far? How does your radio show tie into the other work you do?
What I find most purposeful about BFF.fm is that is gives everyone in our community an opportunity to contribute & create the diversity, inclusion, & creative transformational energy that embodies the SF Bay Area. I personally really value the chance to make my voice be heard & elicit ecstatic healing energy within those that listen to my show. There's so many dark things going on in our community & the world at large; Art & music are the light in this darkness & can help guide our way into the future.
Your show, Astral Transmissions, is a jam-packed hour with a lot of interesting sounds coming from your DJ controller. Tell us what artists we should be paying more attention to.
Flying Lotus, J Dilla, DJ Rashad, Alix Perez, Eprom, Ivy Lab, Mad Zach, Bleep Bloop, Little Snake, Anna Morgan, Suzi Analogue, Bell Curve, A.Fruit, Bastiengoat, Machinegirl, DJ Swisha, Kush Jones, DJ Spinn, Heavee, RP Boo, DJ Earl, DJ Manny, DJ Taye, DJ Paypal, DJ Mastercard, Thundercat, Madlib, Knxledge, Iglooghost, Kaytranada, Anderson Paak, Machinedrum, dBridge, CRIMES!, Ras G, Dibia$e, Daddy Kev, DJ Nobody/Elvin Estella, DJ DStyles, Holly, Daedelus, Wylie Cable, Clyde, Onhell, Aleph, Halogenix, Shygirl, SOPHIE, Blood Orange, i_o, Razat, Nina Simone, Sun Ra, Joao Gilberto, Miles Davis, Black Nile, Culture Shock
Any cool shows, films or books you've checked out recently?
Blindspotting, Climax, Viva, Terrorvision, Women On The Edge Of A Nervous Breakdown, & I recently re-binged Neon Genesis Evangelion.
Okay, finally, I loooove hearing about people's idiosyncrasies because we're all super weird in our own ways. What are yours?
I don't eat my pizza crust, & I do this thing where I constantly have to reheat my hot tea because I forget about it. I'm always in a constant cycle of reheating my tea, not drinking it, then reheating, & repeating that all over again. I do this with food too.
---
Velaluna is SO cool! Check out their BFF.fm DJprofile, connect with Velaluna, and maybe even support Astral Transmissions with a donation!