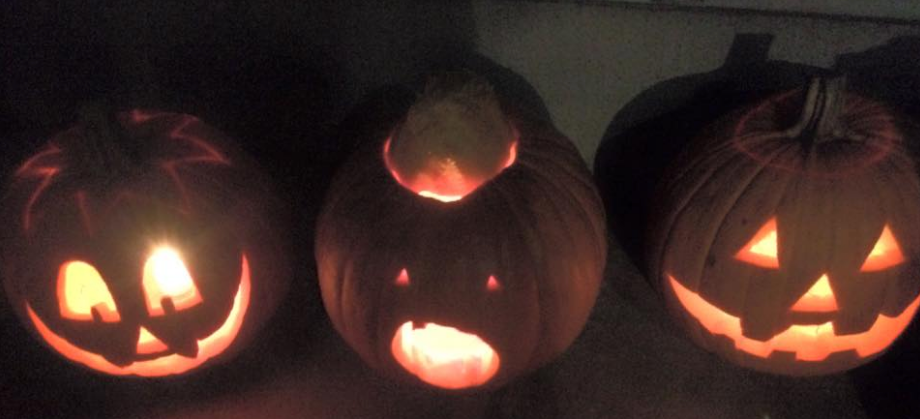 Here's a full listing of all of our Halloween programming...and check back because more is sure to be added as the spooky night approaches!
Saturday 10/22
10 - 11am Fractal Chambers: Have you been missing that synthy, gothic music genre known as "Witchouse"? Break out your Salem 7 inches, Crimewave is bringing it back for an hour on Fractal Chambers! (listen)
Tuesday 10/25
4-6pm Astral Projection Radio Hour: our most beloved witchy, feminist, occult-themed, female driven radio show (listen)
10pm - midnight HORIZONS: broadcasting in the guise of Alan Almond's Pillowtalk program on WNIC Detroit from the late 80s. (listen)
Wednesday 10/26
6-8am We Let The Hats Decide: Annual Halloween Special (listen)
10am - Noon The Feelies: "do the monster motion" - monica's halloween party ~ a mix of rock & latin quirks along with halloween classics for a swingin' good time! (listen)
6-8pm Tuff Signals: creepy garage rock (listen)
Thursday 10/27
7:30 - 9:30am Roll Over Easy: special guest co-host Beatrix Gravesgard of Astral Projection Radio Hour (listen)
10am - Noon Abuela's Pantry: ghostly feelings and spooky tunes with guest host Shannon Bodrogi of Soar and Void Boys sharing some live covers. (listen)
Noon - 2pmThe Hanging Garden Radio Show: when you're goth, every day is Halloween. (listen)
Friday 10/28
8-10amStuck in Thee Garage: two hours of creepy rock (listen)
4-6pmMusic Ninja Radio:dark and spooky bass-driven electronic, plus some sinister indie rock (listen)
6-8pmhello cheetle.: a mix of rock'n'roll & soul 45s that will channel us straight to the witch world. girl, cast me a spell. (listen)
8-10pm Radio Shoe: KILLING IT Friday night with a Day of the Dead themed shoe (listen)
10-11pm Too Cold to Cry: spine tingling, stomach churning, ear drum thumping HORROR SYNTH. Tune in for a montage of cuts from the soundtracks to your favorite 70's/80's Horror films. Hail the sound of haunted circuitry!!! (listen)
11pm - midnight Teenage Tragedies: a solid hour of "monster mash" ripoffs and spinoffs (listen)
Saturday 10/29
2-4pm Hang the DJ: spooky, gothy & new wavey stuff (listen)
Sunday 10/30
2 - 4pm The Highpoint Lowlife Show: dark ambient (listen)
8 - 10pm 😵: House Party at Frightenstein's (listen)
Monday 10/31 HALLOWEEN
6 - 8am The Monday Lineup:a playlist with songs and bands with Halloween adjacent terminology (listen)
8-10am Anti-Gravity Bunny: creepy af (listen)
4-6pm Radioculars: Halloween anthems and other creepy crawly things with spooky sound effects (listen)
6-7pm I Rock I Roll Radio: the best of spooky/dark/creepy new music
8 - 10pmRadical Dreamers: Radical Dreamers Halloween extravaganza on the 31st, Featuring tons of witch house, murky Memphis cassette tape raps, industrial noisescapes, john carpenter soundracks, and other spooky delights.
10pm - midnight Genre!: songs about fear